With a statue now added to Britain's biggest football stand being named after him, the unstoppable force Sir Alex Ferguson used to represent is finally winding down. That he has been immortalised twice whilst still alive, let alone in management, underlines the power he holds at Old Trafford. Genuinely surprised at Old Trafford's main stand renamed as the Sir Alex Ferguson Stand, the unveiling of his statue included a guest list of some of his greatest players, the entire first-team squad and the unconscionable Eamonn Holmes. On New Year's Eve last year, he was treated to a chorus of 'Happy Birthday' minutes before Manchester United lost 3-2 to struggling Blackburn Rovers. A staunch (champagne) socialist, M16 has occasionally resembled a communist revolution since his appointment 26 years ago.
But this is looking increasingly like Ferguson's last ever season in management. It has been said before, but the aforementioned trio of processions are also easing him towards the exit, albeit by his own choice. In September he spoke with Pep Guardiola in New York along with United's chief executive David Gill and a member of the Glazer family about the possibility of the Spaniard succeeding him when his self-imposed sabbatical ends in 2013. It leaves Ferguson with two challenges left in his distinguished career at home and abroad.
Overcoming Barcelona for a third European Cup appears to be an insurmountable task however. While not impossible - as Chelsea showed last season - United possess an abyss in midfield which Lord Lucan could be hiding in. Barça bypassed it in two Champions League finals in 2009 and 2011 - with greater ease in the latter and their standards under Tito Vilanova have not slipped, unlike United's under Ferguson. But the Scot can take solace from the Premier League's regression over the last three years, where the Reds remain contenders for a 20th title.
City represent the final test for Ferguson in his early 70s. He knocked Liverpool "off their f*****g perch", usurped Newcastle in 1996, responded to the success of Arsène Wenger's two best Arsenal teams, overcame José Mourinho's Chelsea juggernaut and held off a rare but credible Liverpool title charge in 2009. City however, the Premier League champions Manchester City, remain unscathed.
Ferguson used to refer to Eastlands as the 'Temple of Doom' and ask City-supporting journalists who attended his press conferences whether they needed anti-depressants. He would offer to put them in touch with a "good counsellor" and piped up on one occasion: "Can't get into Europe with your own team so you have to latch on to us? Well, I'm telling you nowt you little blue spy.".
United fans used to sarcastically holler "City are back" in the pre-2011 years. Gallingly City are back and Ferguson has played an unwanted but integral role in their ascension to champions of England. United's frustration at the 2011 FA Cup semi-final loss, which effectively guaranteed City their first trophy in 35 years, was obvious during and after the game. Paul Scholes executed an enraged, studs-up challenge on Pablo Zabaleta to earn a red card while Rio Ferdinand and Anderson both attempted to manhandle a mischievous Mario Balotelli after the final whistle.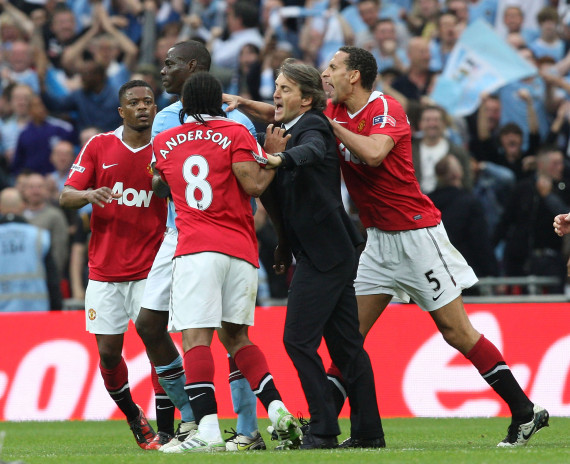 United react badly to City's semi-final win
For Dimitar Berbatov, it was the beginning of the end. The two presentable chances he squandered at 0-0 - one an open goal - seemed to be held against him thereafter as he started just two of the nine matches remaining that campaign and was infamously omitted from the Champions League final of favour of perma-crock Michael Owen.
One year on and City's title win tasted of the finest vintage because of its United-related savouries. The 6-1 win at Old Trafford was Ferguson's "worst defeat" while the 1-0 win in April - which saw City leapfrog United in the clubs' antepenultimate fixture - was perhaps tactically his worst. He fielded an ineffectual midfield trio of Ji-Sung Park, Paul Scholes and Ryan Giggs - with 106 years between them - which predictably isolated Wayne Rooney as the threatening Antonio Valencia and the thriving Danny Welbeck were dropped.
On the touchline Ferguson had a heated row with Roberto Mancini. That weekend the front cover of the new RedIssue depicted Ferguson saying "C'mon then, gobby."
Mancini's reply was: "If only your players showed that much fight, hey?" The only surprise was the win was not achieved by a greater margin.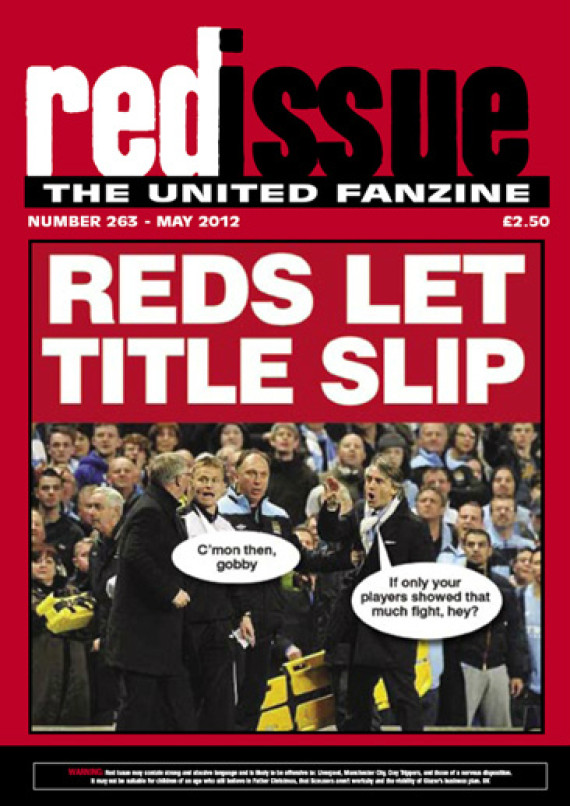 RedIssue takes aim
And then there was Sergio Agüero's Fergie-time winner after Edin Džeko's stoppage-time equaliser against QPR on the final day. City had not only won the Premier League in extraordinary circumstances and ended their 44-year title drought, but they had done so The United Way, clawing back from an eight-point gap with six games remaining in the process.
City fans would not swap the euphoria of that day for Robin van Persie, but it also exposed a chink in their armour United are beginning to expose. For all the £291.75m Mancini has spent in nearly three years, their Premier League win came by virtue of goal difference and for a second successive season they have not progressed past the Champions League group stage. Van Persie, who has scored four league winners this campaign, has propelled an unconvincing United to the Premier League summit with an unconvincing City three points behind. Van Persie struck his latest winner at Reading last week
Arsène Wenger said City offered Van Persie £300,000 a week to join the club and it is not unrealistic to suggest had he have become a blue rather than stayed red the Citizens would be ahead of their neighbours by a distance. His impact at United has not been dissimilar to his effect at Arsenal in his final year at the Emirates, to the extent the waning Wayne Rooney has been downgraded to a peripheral, rather than a pivotal, role. City were frustrated by Everton last week
David Silva's recovery, as well as United's midfield malaise and dithering defence, are auspicious signs for Mancini as he takes on Ferguson for the 11th time. Ferguson and his side owe United fans a performance after the double disaster last season but with Nemanja Vidić returning soon and the January transfer window open in just over three weeks, it is what Ferguson does after Sunday's match which will have a greater bearing on whether he can wrestle the Premier League trophy back.
A race horsing enthusiast to disastrous consequences for his club's more sussed supporters, Ferguson will be fuelled by a determination to ride off into the sunset a winner with a milestone championship achieved by conquering a loathed nemesis. He should be mindful the racehorse isn't like Devon Loch, though.