The drastic physical effects of methamphetamines are laid bare in this gallery of users pictured as their addictions took hold.
The images feature on Rehabs.com, an American website which gives information on the treatment of various addictions, lists of clinics and general advice.
It also provides an account of the rehabilitation process and recommendations for relapse prevention.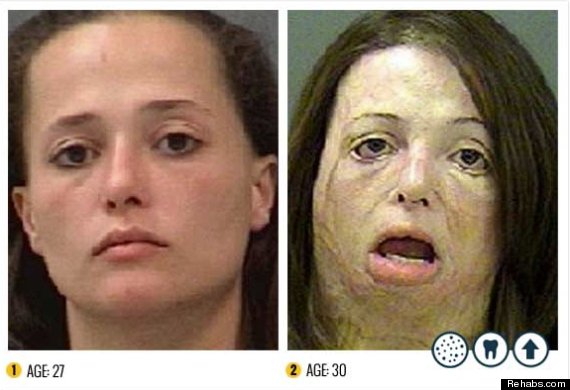 It states: "Addiction touches nearly every family, ravaging physical and mental health, relationships and personal finances. Mothers, fathers, brothers, sisters, daughters and sons.
"No one is immune to the frightening long-term impact of hard drug abuse. What follows is a sobering depiction of REAL individuals who've fallen victim to the temptation of drug use in this case, methamphetamine."
The site points out the main physical changes which include acne and scarring - usually from obsessive picking related to the sensory hallucination of insects crawling under the user's skin.
The faces of meth addicts tend to be gaunt as the drug suppresses the appetite and leads to the body's consumption of its own muscle tissue and facial fat. Teeth and gums also suffer.
Methamphetamine was first synthesised by Japanese chemists in the late 19th century and was prescribed to German military personnel during WW2 under the trade name Pervitin.
Many of the Wehrmacht's soldiers were high on Pervitin when they went into battle, especially against Poland and France -- in a Blitzkrieg fueled by speed. The German military was supplied with millions of methamphetamine tablets during the first half of 1940. The drugs were part of a plan to help pilots, sailors and infantry troops become capable of superhuman performance.
In the 1960s methamphetamine was prescribed as a slimming aid and to counter narcolepsy. Its popularity as a recreational use drug took off in 1967 as an alternative to the licensing of cocaine.
Free, confidential information and advice is available by calling the Release Drugs Helpline on 0845 45 00 215