What do you do if you're a world-famous K-pop star who inspired an internet craze, but you've recently had to apologise over remarks made about killing American soldiers "slowly and painfully"?
Well, if you're Psy, you shake the hand of Barack Obama in front of thousands of people at a charity concert.
Obama met the red-sequin clad South Korean singer after Sunday's 'Christmas In Washington', but unlike Ban Ki-Moon didn't attempt Psy's famous 'Gangnam style' dance move.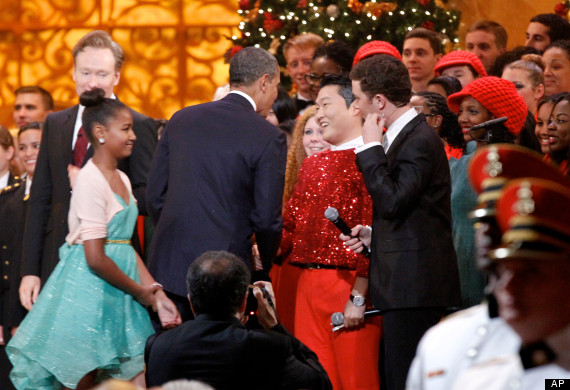 Barack Obama shakes hands with South Korean rapper Psy
It's little wonder after the singer apologised for a 2004 song, performed in a protest in the wake of the Iraq war, where he said of American soldiers "kill those f---ing Yankees who have been torturing Iraqi captives" and "kill them all slowly and painfully."
Psy apologised after the song came to light, saying: "I will forever be sorry for any pain I have caused by those words,.. While I'm grateful for the freedom to express one's self, I've learned there are limits to what language is appropriate and I'm deeply sorry for how these lyrics could be interpreted."