"I used to know someone like that, and we had to stop being friends because she went off the rails," is how Ophelia Lovibond describes her latest role, Biba in ITV drama 'The Poison Tree'.
"What appealed to me playing her were the layers. She's incredibly gregarious, someone to sweep you off your feet. But she's selfish, completely lacking in empathy. She's an amalgamation of a few people."
Biba is one of three locked in a dysfunctional and unorthodox relationship between brother and sister, and a girl who comes into their world. The two-parter, which starts tonight, is from the novel by Erin Kelly, and the glamorous part of the story, was filmed around Lovibond's own stomping ground of Highgate and other parts of North London.
MyAnna Buring, Matthew Goode and Ophelia Lovibond co-star in 'The Poison Tree'
"She's so spooky, it was an extreme role," laughs Lovibond, who sounds extremely laid-back in comparison. "It actually made her pretty easy to shake her off, and we'd all go down the pub."
Biba is only the latest role for Lovibond, one a crop of striking British actresses making their mark on both sides of the Atlantic, and on screens both large and small.
Upcoming is a role opposite William H Macy and Sam Rockwell in a thriller 'Single Shot' - "I learnt SO much," reports Lovibond. "The first ten minutes of the film had no dialogue, it was all about what wasn't being said, and I was completely engrossed."
And you might have caught her in a supporting role in rom-com 'No Strings Attached', with Oscar winner Natalie Portman and homme du jour Ashton Kutcher.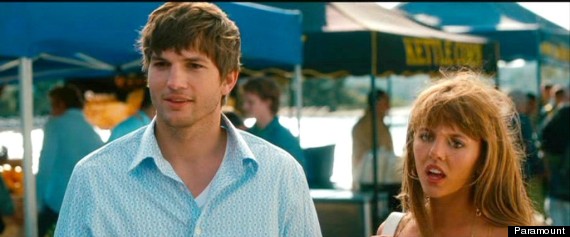 Ophelia Lovibond with Ashton Kutcher in 'No Strings Attached'
"The budget was ridiculous in comparison with my other stuff," reports Lovibond. "Ashton is a really big character, he's like a Labrador puppy, bounding up all the time.
"Natalie isn't affected at all, considering what success she's had. She's incredible modest, but she's got the dirtiest laugh. It's not something you expect, and it's great."
The Poison Tree starts on ITV1 tonight at 9pm. Watch the trailer below...