It's official. The world's most unhealthy Christmas dinner* may have been found in a fish and chip shop in the West Midlands.
Hollywood Fish Bar in Birmingham has created a deep-fried Christmas dinner complete with all the trimmings (see video above).
Speaking to The Telegraph, restaurant owner Chris Christoforou explains that the Fish Bar will not be serving the aforementioned Christmas dinner to customers (shame).
But, do not fear, they will be offering the Santa's Sandwich, a miniature version of this nutritious meal, served on a bun.
He explains: "To create the Santa's Sandwich we start by toasting the floured bun and basting it with cranberry sauce, turkey breast on top of the cranberry and then a sausage topped with the stuffing and then hot gravy on top."
Chris explains that his customers tend to be apprehensive about the snack at first, but many are pleasantly surprised once they try it and even come back for seconds.
Battered Christmas Dinner
With the average unbattered Christmas dinner clocking up more than 3,500 calories -- yes, we were shocked too -- sex toy website Desire and Pleasure have worked out that it will take 11.5 hours of sex on Boxing day to burn it off again. Ahem.
Although that might sound like a whole lot of festive fun, HuffPost UK Lifestyle dread to think how long it would take to burn a battered Christmas meal off.
This deep-fried meal isn't the first extreme Christmas dinner to knock the stuffing out of HuffPost UK Lifestyle and, regrettably, we fear it won't be the last.
Behold Christmas Dinner In A Can, a self-heating Yuletide meal complete with "hot and steamy" turkey casserole.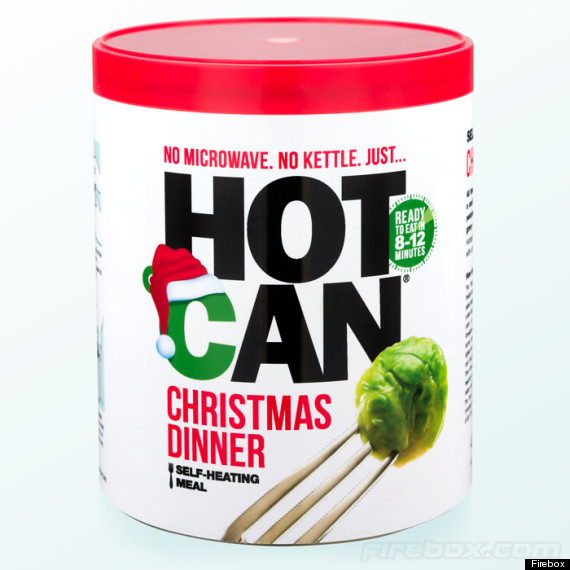 Mmm...looks delicious
It's available to buy via Firebox and was described by HuffPost UK's Tech editor, Michael Rundle, as the "saddest gadget ever made".
*Note: This fact has yet to be verified. HuffPost UK Lifestyle are investigating.