Alcohol and public transport don't usually mix well - especially for one high-heeled young woman at Euston station.
Christmas party-goers are being warned that a bit too much tipple can lead to a serious tumble on tube escalators and station platforms, in a new campaign by Network Rail featuring a horrifying escalator slip.
In a "You've Been Framed" style advert, a woman in white stilettos attempts to stumble up the escalator, before tipping backwards and being carried up to the top of the escalator, lying flat on her back.

A woman falling over on the escalator, captured on CCTV
Another clips shows a woman with a suitcase, stacking it head first on the platform of Leeds station. And two sozzled party girls attempted an impromptu pole dance.
According to rail company, more than 3,000 people have been involved in slips, trips or falls in Britain's railway stations, with incidents involving luggage rising by 70% since 2004.
And 10% of those injuries occur in December, and Fridays the most common time for an accident. Make of that what you will.
Robin Gisby, Network Rail's managing director for network operations said: "A combination of more people carrying Christmas shopping, trailing wheelie suitcases, wet and windy weather and people travelling late after festive parties, make December a time where we see more people take a tumble.
"Our station teams are doing all they can to help passengers get home safe including welcoming back our travel champions in London who received such praise for their professionalism and help during the Olympic Games."
"We don't want to see anyone hurt at our stations so we'll be doing what we can to keep concourses dry and clean and signposting lifts clearly for those with heavy luggage.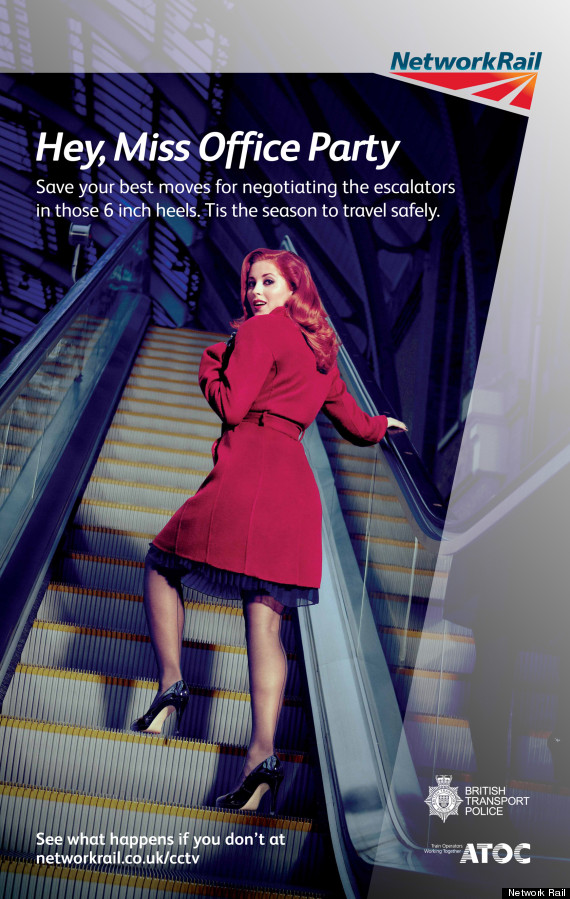 The new campaign poster for Network Rail
Assistant Chief Constable Alan Pacey from British Transport Police said: "It's always important to remain aware of your surroundings, particularly at this time of year when more of us are out shopping and partying.
"We will be supporting rail staff, especially during the evenings, to help them ensure everyone has a safe and secure journey."