Even by Old Testament standards, the story of Noah and the Ark is pretty, well, Biblical in proportion.
All of the world's animals entering a giant boat in pairs to escape a flood designed to wipe out the rest of the world is one of the most enduring stories of all time.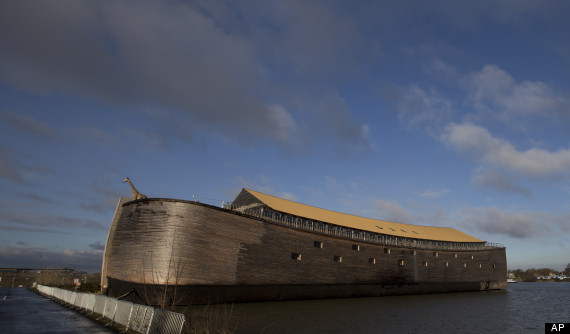 A full scale replica of Noah's Ark in seen in Dordrecht, Netherlands
Which is what makes the work of Johan Huibers all the more impressive. The Dutch artist has built a full-scale model of Noah's famous vessel and opened it to the public in the Netherlands.
Following the description laid out in the Genesis as closely as possible, 'Johan's Ark' measures 130 metres (427ft) long, 29 metres across and 23 metres high - though he had to draw the line at using 'gopher wood' as no one knows quite what material is. Instead he used a mixture of steel frames and American Cedar and Pine.
Huibers, who is a creationist, spent more than €1 million on the project which took 20 years to complete and can now receive up to 3,000 visitors a day who he hopes to educate about 'history and faith'.