Thirteen English football league clubs have pledged their support to the safe standing pilot scheme.
Aston Villa are the only Premier League club but the Scottish Premier League is also in favour of the proposal, as are a number of Football League clubs including Brentford, Crystal Palace, Cardiff City, Derby County and AFC Wimbledon.
The Football Supporters' Federation has suggested English football follows the successful German model, where the Bundesliga is arguably the most prosperous major league in Europe.
A 'rail seat' design which incorporates a safety barrier and a flip-down seat on every other row has already been demonstrated by the FSF. The seats can also be locked in an upright position, which reduces the danger of crushing.
The prospect of safe standing has been welcomed by the majority of football supporters disillusioned with the moribund atmospheres at English league games. Bundesliga crowds are riotous and Borussia Dortmund's following has gained plaudits in England having played Arsenal and Manchester City in consecutive seasons in the Champions League.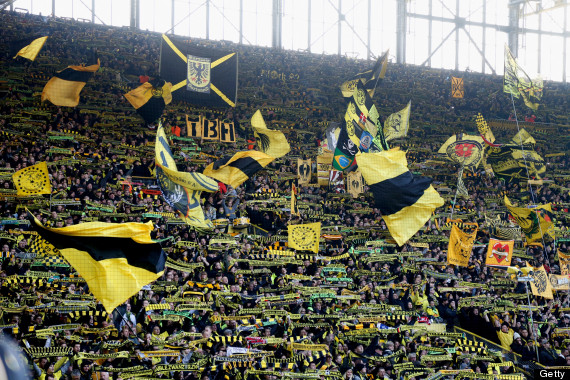 However concern is growing that the English game is becoming even more sanitised as some sustain their resistance. Sussed supporters abhor the half-and-half scarf and jester hat culture, but it is growing and the hope is safe standing could entice truer supporters back to stadiums.
The Hillsborough tragedy has also been cited as a reason why safe standing should not be adopted even though the Taylor Report did not recommend standing be abolished.
Margaret Aspinall is chair of the Hillsborough Family Support Group and her son James, 18, was among the 96 people who died at Sheffield Wednesday's Hillsborough Stadium in April 1989. She believes standing should be unthinkable. Aspinall's son James was 18 when he died at Hillsborough
Mrs Aspinall said: "There are 96 reasons why it should not be allowed.
"There were 96 dead at Hillsborough and it could have been a lot more.
"Standing should never, ever come back. I do not think there is anything safe about standing.
"I feel insulted that while people are trying to fight for justice for Hillsborough, that this campaign is growing now."
Former sports minister Kate Hoey however is in favour of the return to terracing, insisting "there are absolutely no safety reasons now for this not to happen".
Fifty-three MPs showed their support for safe standing to date.
CLUBS BACKING SAFE STANDING
Aston Villa
Brentford
Bristol City
Burnley
Cardiff City
Crystal Palace
Derby County
Doncaster Rovers
Hull City
Peterborough United
Plymouth Argyle
Watford
AFC Wimbledon