Home movies of Darwin the Ikea monkey brushing his teeth, wearing dungarees and sucking a dummy have emerged, all filmed by his doting owner who desperately wants him back.
Real-estate lawyer Yasmin Nakhuda says Darwin sleeps, eats, shops and showers with her, and that he needs her "like a child needs a mother".
According to CTV News, the seven-month-old rhesus macaque has been taken in by the Story Book Farm Primate Sanctuary in Ontario, Canada, after he was spotted wandering into an Ikea store, looking rakish in a shearling coat.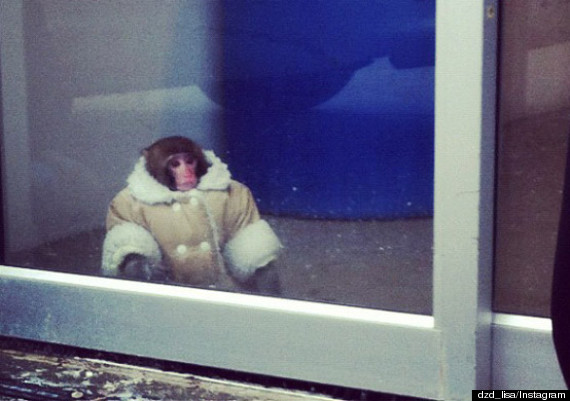 Darwin was pictured peering wistfully through the window of the Toronto Ikea store
Darwin had apparently unlocked his own cage and opened the car door before heading into the Swedish furniture store on Monday.
Nakhuda has been fined $240 as keeping the breed as a pet is illegal in Canada, so it's unlikely she'll be reunited with her surrogate "son".
She told the Toronto Star: "It was a babysitting experience that turned out into a fatal attraction and put me where I am.
"It's not like raising any other animals, or dog or cat. You need to experience it. He has feelings like human beings."
Nakhuda has highlighted a number of home movies of Darwin as she continues to plead for access to her former pet.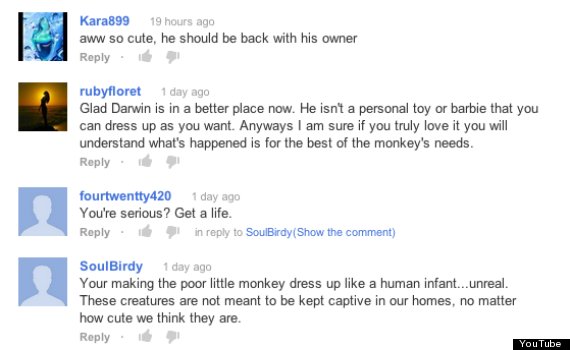 Reactions to Nakhuda's videos have been varied
In a video uploaded in October, she writes: "He is more than a handful: needs to be baby bottle fed night time and needs at least 3 diaper change a day.
"He has to be with me all the time which means he goes with me to the office, sleeps with me, eats with me, showers with me, goes shopping with me . . . it is more than a human baby so yes, not everyone can handle a baby monkey. He is now 6 months old only and is expected to be around 4 feet tall."
Do you think Nakhuda should be reunited with Darwin?