When you're marvelling at the on-screen moves of Angelina Jolie, Jennifer Lawrence, Naomie Harris, Rooney Mara and co, spare a thought for the uncredited women, who often - not ALL the time - are really dancing with danger, taking the hits, landing the jumps and generally getting their a**es kicked in the name of film action and adventure.
Tracey Ruggiero is one such lady, working in films from 'The Dark Knight Rises' and 'Inception' to 'The Bourne Legacy' and the forthcoming 'Star Trek into Darkness'. Here, she shares with Huffington Post UK some of the secrets of her trade, how decisions are made, and some of the perks and perils of her widely-seen but little-known job...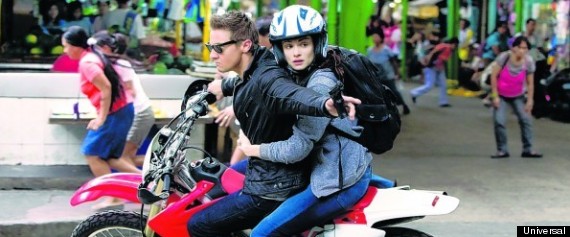 Jeremy Renner and Rachel Weisz in 'The Bourne Legacy'... or is it?
How I got into stunt work...
No pun intended, but I actually fell into stunt work. I moved out to Los Angeles to pursue a career in acting. Parts were few and far between, and I was feeling unfulfilled. A friend of mine (who I trained with in gymnastics) was a stuntwoman and kept telling me I should check it out. I'd never really considered stunts as a career for myself. Finally I gave in and got my first job. It was a great deal of fun and excitement, and with 12 years of gymnastics as my background, it was an obvious good fit for me. I dedicated my childhood and teen years to the sport of gymnastics and I competed nationally. Like any other young gymnast, I had dreams of the Olympics. It's shattering when you realize that you don't have that potential to make it. So I guess stunts is MY Olympics!
My biggest stunt challenge so far...
I think my biggest stunt challenge so far was a 90 foot descender I did on the film 'Inception'. A descender is like a free fall, except you're on a wire and it brakes you before you hit the ground. It wasn't so much a physical challenge because the work is actually being done for you by exceptionally capable riggers. But the challenge sometimes can be a mental one. 90 feet doesn't seem that high until you're standing on a ledge in the middle of the night in downtown Los Angeles, and all you see is black pavement below you. Needless to say, it was absolutely exhilarating and I felt fortunate because it was my first opportunity to perform that stunt.
My injuries so far...
Fortunately for me, I've been fairly lucky (knocks wood twice) with injuries. BUT I've had a few close calls that I'd rather not mention. Part of the job is having your butt kicked, and body bruised and battered. I remember doing the fight scene at the end of the film 'The Roommate' when I was stunt doubling Minka Kelly. I took such a beating filming that scene. As soon as it was over, I was off to New York to begin stunt doubling Jennifer Aniston on 'The Bounty Hunter'. Jen's wardrobe was a mini-skirt and tank top. I was terrified I'd be sent home on that first day because I'd shown up with purple and green bruises all over my body. I quietly asked the make-up artist to please cover up all the markings on me. Lucky for me, she was a master at her job and all went fine!
Who's the actress who least needs stuntwomen...
Well it's hard to say which actresses are best equipped to do their own stunts. Most times, for insurance reasons or time constraints the actress is not even given the option unless they are huge stars, and then they can pretty much call the shots. Sometimes you work with actresses who seem so delicate and timid, but then they surprise you and are game to give anything a try. Other actresses can't be bothered and just say, "have Tracey do that". I love those kinds of girls! But really, my job as a stunt double is to best serve the film (or tv show). I take orders from the stunt coordinator and together we work with the actress to lead her in and out of the action scene so that it appears seamless to the audience when I come in and out of the cut. As a stunt double it is our job to learn how to move like the actress we are doubling. I feel like I pick up a little physical quirk from each woman I double.
MORE: Jeremy Renner Speaks To HuffPostUK About Matt Damon And The Bourne Legacy...
The best part about my job...
The wonderful people I get to call my friends! When you work on a film, especially when it shoots on location, it's like being at summer camp. You really create a family with these people and what's so great is that we all have this common goal, which is to make a fantastic movie! It's such a collaborative effort- every department is equally as important as the other. Without stunts, you don't have action. Without make-up, you don't have beauty, or gore. Without craft services, everyone starves!! But seriously, when you work on a terrific set, you really feel the camaraderie. It's always there on JJ Abrams' sets. He's a great team leader and treats everyone with dignity. He hires talented people with positive attitudes. And of course, I must say that the stunt performers on films are ALWAYS the most fun. We work hard and play harder! When the director yells "cut", everyone wants to go hang out with us!
The Bourne Legacy is out on Blu-ray and DVD NOW. Join in your very own Bourne Legacy agent evaluation programme here, and watch the trailer below see if you can spot Tracey Ruggiero in action...