Remember t.A.T.u.?
Oh you know, those perky Russian pop stars who made that video where they wore school uniforms, snogged in the rain and generally indulged in a big fat display of faux lesbianism?
Yeah those two. Well, Lena Katina and Yulia Volkova are back and are er, singing the same song!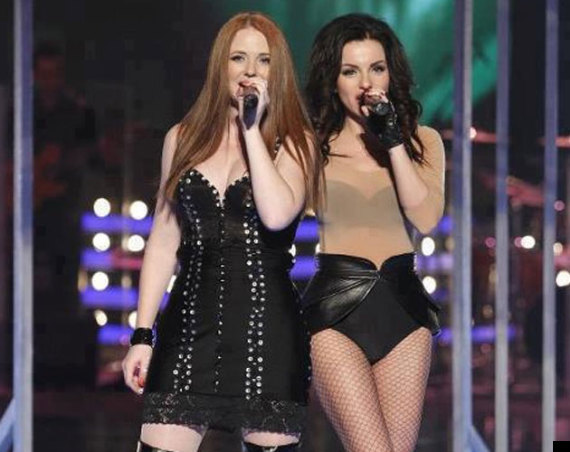 All grown up: Lena Katina and Yulia Volkova performing All The Things She Said on Romania's version of The Voice
The duo, who shot to fame on the back of the soul-stirring anthem All The Things She Said, appeared on Romania's version of The Voice.
Gone are the tartan mini skirts, but leather hotpants, fishnets and some rather unconvincing hand-holding were thankfully in evidence as they belted out their decade-old hit.
The pair are back together to celebrate the 10-year anniversary reissue of their debut album, 200km/h In The Wrong Lane. The way they were: The perky duo at the MTV awards in 2003
A glance at the pair's official website sees them described as "fierce" and "sprightly" and smugly points out Lena and Yulia were snogging on TV well ahead of those bandwagon jumpers Madonna and Britney.
It adds: "In a world of prefabricated and stridently scripted entertainers, these girls know who they are and do exactly what they want.
"Through their music and live performances, t.A.T.u. present themselves as they genuinely are - artistically, intellectually and sexually progressive young women in control of their careers and open to all life has to offer."
Quite.