Kim Wilde, eighties rocker and TV gardener, has given a select bunch of Tube passengers a special Christmas treat, with a merry rendition of her hit 'Kids in America' as well as an impromptu 'Rockin' Around The Christmas Tree'.
The star singer even gave into the Christmas spirit with a pair of antlers.
Katherine Eames, who posted the video on YouTube, reported:
Kim Wilde and Ricky Wilde serenade passengers on the train home after the MagicFM Christmas Party. After a truly rubbish day, I got on the train home and couldn't get a seat, a man pulled out his guitar "Oh here we go!" I thought. Then a drunken woman starts singing. Hang on a minute, I know that voice?! It really was KIM WILDE! This totally made my day. Thank you. She is an absolute legend! Merry Christmas everyone.
WATCH for yourselves and, I think you'll agree, Kim's still Rockin.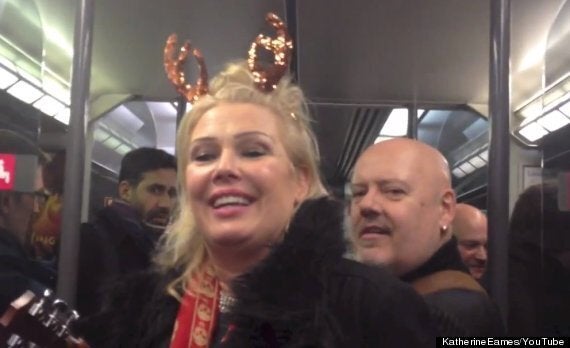 Kim Wilde gives tube travellers an extra special Christmas treat
Related