Yorkshire has been revealed as the home of Britain's freelancer activity, with four Yorkshire towns and cities, Bradford, Sheffield, Halifax and Huddersfield, appearing in the list of top UK freelancer hot spots.
Over the past 12 months, Bradford - which came at the top of the freelancer league table for the whole of the UK - has seen its freelancer population more than double, according to PeoplePerHour, which has seen the number of new registrants rising by 165%.
It appears there may be something of a north/south divide - Sheffield (139%), Halifax (123%) and Huddersfield (115%), have seen their freelancer population swell in the past year, and the north west of England and Scotland also feature prominently in the top 10 list, with Liverpool (135%), Manchester (130%), Dundee (132%) and Aberdeen (111%) all experiencing a boom in people working for themselves, and selling their specialist skills and services online.
But surprisingly, there are no cities in the south or East of England that feature in the list of top 10 freelancer hot spots, and only one city in the Midlands, Leicester (146%), which has seen the second biggest rise in freelancer numbers in the past year.
This may be driven by the sorts of services freelancers in the north offer, compared to their colleagues in the south - northern-based freelancers generally offer more creative services, such as writing, design and illustration, while in the south, the most common services include legal support, accounts and book-keeping and general administration.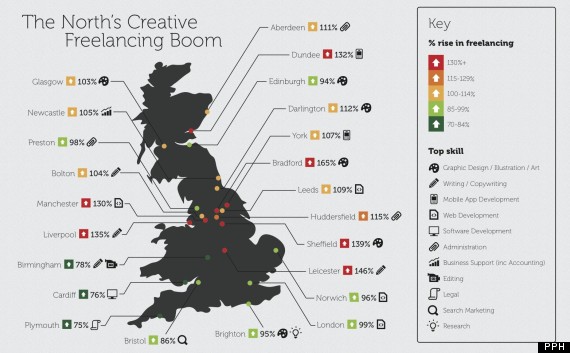 A map showing the freelancer hotspots throughout the UK
Xenios Thrasyvoulou, founder and chief executive of PeoplePerHour, said in a press release: "The north of England has been particularly badly hit during the recession, but these figures suggest that the north has a pool of highly skilled workers who are not realising their potential, and have decided that the flexibility of working as a freelancer will provide them with more opportunities.
"For those people who make the decision to freelance, it may simply be to make some extra money to top up their main salary. For others though, what starts out as a few hours of extra work here and there, can quickly turn into a fully-fledged business. With the right platform, the freelancer of today, is the budding entrepreneur of the future; and making it easier for people to start a business, can only be good news for the UK economy."
Regus, the world's largest workspace provider, runs a research programme to keep on top of the topics affecting its one million customers. Recruiting freelancers emerged as a key business priority in one of the recent polls, with 41% of firms expecting to hire freelancers in the coming year.
Steve Purdy, UK managing director at Regus, told Huff Post UK the rise of businesses using freelancers was part of a wider trend for businesses to create a more flexible workforce, "enabling them to remain agile in the volatile market and also to reduce fixed overheads such as office space".
"At the same time, technology-savvy Generation Y has an inherently more open attitude to work, unrestricted by conventional twentieth century attitudes, and are more likely to accept freelance and remote working roles," he continued.
"The changing nature of the UK employment market is certainly reflected in the way people are using our services. There has been a huge rise in demand for 'pay as you go' and virtual office services, for instance, stemming from freelance and remote workers who do not have a network of company offices to rely on.
"Where to work is one of today's biggest challenges for the new breed of worker, hence the rise and rise of co-working hubs and 'rent a desk' arrangements."