The family of the nurse found dead after being duped by a prank call from two Australian radio DJs described the "unfillable void" left in their lives as a mass was held for her at Westminster Cathedral on Saturday.
Mother-of-two Jacintha Saldanha, 46, was found hanging in her nurses' quarters at King Edward VII's Hospital by a colleague and a security guard on December 7.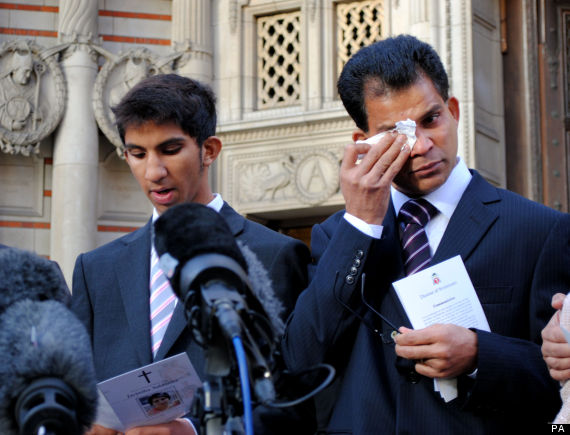 Junal, 16, reads a tribute to his mother outside Westminster Cathedral in central London with his father Benedict Barboza
The nurse transferred the DJs, believing they were the Queen and Prince of Wales, to a colleague who described in detail the condition of the Duchess of Cambridge during her hospital stay for severe pregnancy sickness.
The mass was held "for the repose of the soul of Jacintha and her grieving family", a spokesman for the Cathedral said.
Following the service, Ms Saldanha's husband Benedict Barboza and two children Junal and Lisha paid an emotional tribute to a "kind-hearted, generous and well-respected woman".
Fighting back tears, Mr Barboza said: "My wife, you were the light in my darkness, who always showed me the way forward.
"From the day we met, you always stood by me in times of hardship and happiness.
"I feel a part of me has been ripped out.
"Without your beautiful smile and sparkling personality, the house is an empty place to live.
"Nineteen years of togetherness with a strong bond of affection and understanding will be cherished forever in my life.
"Your loss is a very painful one and nobody can take that place in my life ever again. I love you and miss you forever."
SEE ALSO: Hospital Did Not Blame Saldanha For Hoax Call
Ms Saldanha's son Junal said: "Our mother, kind hearted, generous and a well respected woman in both of our lives. You were the core of the family who kept is together.
"In times of difficulty you showed us the way forward to happiness and success.
"Your priority for us was a good education and a bright future. You taught us right from wrong which we appreciate.
"You worked tirelessly to give us everything that we have today. When we achieved good grades and merit, your pat on our backs encouraged us more."
Daughter Lisha, 14, said: "We will miss your laughter, the loving memories and the good times we had together. The house is an empty dwelling without your presence.
"We are shattered and there's an unfillable void in our lives.
"We love you mum, sleep in peace and watch over us until me meet again in heaven. We will always love you and keep you close to our heart."