Brian May already had one good idea, and it seems he may just have had another.
The Queen guitarist was in London on Friday, to help launch the eBook of '40 Years of Queen' - a treasure trove of delights for any Queen fan with an iPad, filled to the brim with narrative from the band's history from the first gigs through to the era-defining stadium appearances in the 1980s, personal anecdotes about each of the band members and links to iTunes so you can hear snippets of all the relevant tracks and concert set lists (and purchase them at your leisure, naturally).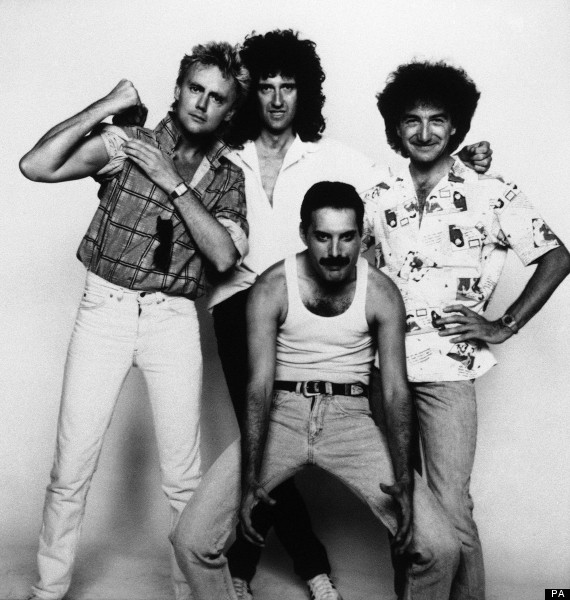 Queen - 40 years remembered in this new eBook of anecdotes and memorabilia
In amongst all this lot is a very personal collection of souvenirs from Brian May's own stores – ticket stubs, programmes, handwritten letters, all sorts of momentoes that normally disappear.
"I was very aware of history," reflected the guitarist at the launch on Friday in one of the Groucho Club's tea rooms. "I kept every ticket, every plectrum, and it's been gathering dust in a temperature-controlled storage room. So it was a curious enterprise going back through everything, and remembering what it all represented."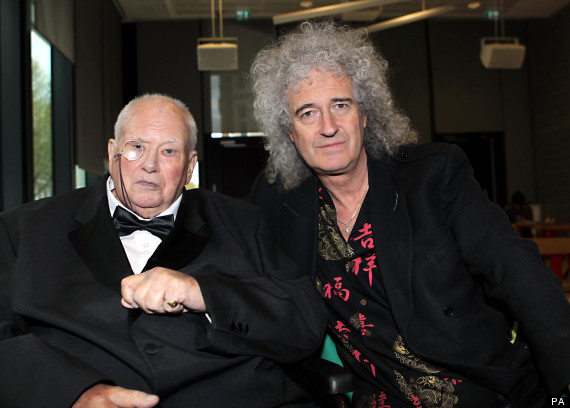 Brian May with his friend Sir Patrick Moore just before he died
During the event on Friday, while many fans/journalists happily played with the iPad app, May was naturally drawn to talking about the recent death of his great friend, the astronomer Sir Patrick Moore, with whom May had collaborated on a book only months before Moore died, aged 89.
"You can't be too sad, he had a wonderful life and died surrounded by his friends, with his cat on his legs.
"But Patrick had such a complex life, all his astronomy charts and books, the music he composed, the poems he wrote… it's a challenge trying to work out what to do with it all."
May was referring to the contents of Moore's house in West Sussex, which was filled with the astronomer's souvenirs from 55 years of presenting 'The Sky at Night', plus correspondence with other leading astronomers, alongside many thousands of books, including ones written by Moore himself.
And then another bright idea dawned in the room… perhaps an eBook for all of Patrick's stuff, too?
"Now that's an idea," said May, thoughtfully. "There's already huge amounts of astronomy on the internet, so that would make perfect sense… thankyou very much."
You heard it here first, people. Meanwhile, interactive extras on the Queen eBook include dynamic photo galleries, audible quotes and handwritten lyrics, together with audio forewords from Brian May and Roger Taylor, and it's among the most advanced eBooks currently available.
The eBook is published by Carlton Digital, and you can download it here - price £9.99
And here's a little something else for Queen fans...