Following news that Newcastle City Council is planning to cut 100% of its spending on arts and culture, former Newcastle resident Sam Parker returns to the city to find out how it will be affected, and questions the logic of rejecting the very area of public life that once helped save the region.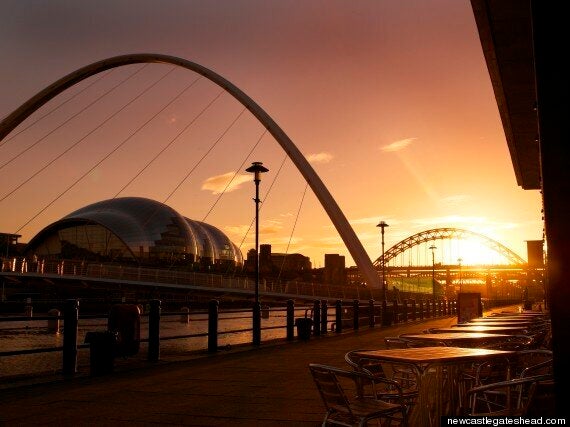 Newcastle's flagship Quayside area
Newcastle City Council's announcement that it plans to withdraw its public arts funding arrived like a punch in the gut to anyone who knows and loves the region.
First there is the horrible starkness of the figure: 100%. All of it. Every last penny of the £1.6m currently devoted to culture - a fairly pitiful 0.7% of the annual budget overall - but enough to put some institutions at risk altogether.
But above that there is pain of knowing that art has been not only Newcastle's economic saviour in the past twenty years, but the main source of local pride. The city's waterfront, once the rubble-filled and dusty graveyard of a fallen ship building industry, was rebuilt brick-by-brick by art, theatre and music. Today it's the city's postcard. It came within a whisker of winning the European Capital of Culture Award. It attracts the greatest orchestras in the world. And in 2011, it hosted the most successful Turner Prize exhibition of all time.
Surely a city that has become a national poster boy for culture-based regeneration should be the last to sacrifice its arts, even in response to what Newcastle's Labour leaders have called "an ideological assault on public services" from central government? Surely, here of all places, there is simply too much at stake?
Newcastle's journey to becoming a modern 'culture capital' began in 1990. The city's smaller but more forward-thinking neighbouring town of Gateshead hosted a National Garden Festival that attracted 3 million visitors to the region, and opened eyes to the potential for tourism and the arts to help direct the North East out of its post-industrial malaise.
Eight years later, a partnership was born: the NewcastleGateshead Initiative. Ostensibly the aim was to see the region crowned European Capital of Culture in 2008 - a target they would miss out on narrowly. But really, this was about transforming a city's perception of its self and to the rest of the world. It was - and is - a tremendous success. Outside London, Newcastle is one of Britain's most culturally vibrant and widely loved cities.
Any visit begins on the Quayside area along the River Tyne, where the glistening 'armadillo' shell of the Sage music hall stands side-by-side next to the Baltic Centre for Contemporary Art - helping make the area utterly unrecognisable to anyone who saw it in the 80s.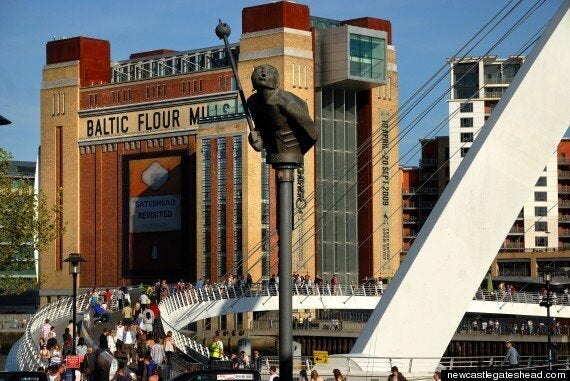 The Baltic Contemporary Art Gallery, Gateshead
The Baltic is a former flour mill that stood derelict for 20 years until it was converted into a multi-story modern art gallery in 2002, when thousands of people queued along the then-brand new, blinking Millennium Bridge to attend its opening night. Structurally, it's everything you wish the Tate Modern could be: uncluttered, full of natural light and easy to navigate. Last year it smashed visitor records when it hosted the first Turner Prize exhibition to leave London, but major exhibitions by Anish Kapoor, Antony Gormley, Sam Taylor-Wood and Yoko Ono had already established it as one of the leading homes for contemporary art outside the capital.
Two years later and next door, the Sage Gateshead was being hailed in The Times as 'the most exciting music venue in Britain'. Three venue spaces offering perfect acoustics have tempted stars like James Brown, Bryan Ferry and Paul Weller to perform, along with a steady schedule of leading orchestras from around the world.
But while both Newcastle and Gateshead are being forced to find considerable savings - £90m and £70m respectively - Gateshead council is planning to reduce arts spending in line with other budget reductions. Just like back in 1990, the smaller town is putting more faith in culture, and the Baltic and the Sage - though under strain - are being saved from savage cuts by virtue of being on the right side of the river. Over the water and further into the heart of Newcastle, it's a very different story.
A short walk from the Quayside puts you on Newcastle's Grey Street, a slowly winding feast of Georgian architecture that was voted the finest street in Britain in 2002. At its summit is the Theatre Royal, a Grade I listed building where I first fell in love with Shakespeare, following in the footsteps of theatre-hungry Northerners since 1837. In 2007 the theatre reopened after a £7.2m refurbishment, funded jointly by the Northern Rock Foundation and Newcastle City Council, which was just a year away from its goal of being named European Capital of Culture. At the time, Newcastle was viewed as the hot favourite.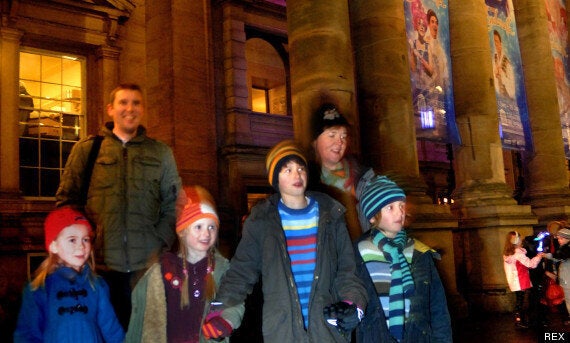 A young family leave the Theatre Royal in the heart of Newcastle city centre
Around the corner, and another flagship arts institution is reacting to the news: The Laing Art Gallery, home to the city's best collection of art and sculpture.
Wandering in on a quiet Saturday afternoon like I have so many times before, the first painting I encounter is John Charlton's 'The Women' (1910), a dramatic depiction of a New Year's Day in 1861 when dozens of local women helped tow a ship wrecked off the nearby coast of Whitley Bay by hand. It's the start of a floor celebrating a long history of North East artists, including a sound and light installation built around John Martin's glorious 'The Destruction of Sodom and Gomarrah' and concluding with a marble hall designed by 2012 Turner nominee Paul Noble, around which a class of under-5 school children buzz happily. Upstairs, a display of Cecil Beaton photographs - there to mark the Jubilee - is arranged around a mock up of a 1950s living room, while next door, 'Futureland Now' charts the more contemporary work of local photographers John Kippin and Chris Wainwright.
The Laing is both a relentless advocate for local artists and a place where residents and visitors to the city can enjoy national and international works. But when I speak to museum assistant Bill Leslie, who has worked at the Laing for eight years, he tells me redundancies are not being replaced and they are discussing closing the gallery for a day a week to meet the reduction in funding. For the Laing's smaller sister galleries - the Shipley and the Hatton - closing on Sundays and sharing one curator across the board are already measures they've had to take. Newcastle's art galleries are being slowly squeezed out of shape.
Across the city, in 2005, children's author Jacqueline Wilson and her illustrator Nick Sharratt cut the ribbon outside Seven Stories, the first centre for children's books in the country. After producing innovative new spaces for art and music, Newcastle now had its own landmark centre for literature – and the focus was all on children. After just seven years, Seven Stories welcomed 200,000 children through its door in 2012 and has just been named the National Centre for Children's Books by Art Council England. And after just seven years of continued success, it is now about to have 13% of its income removed by Newcastle City Council.
Seven Stories have put a brave face on the cuts, admitting "there are difficult times ahead" but insisting "we will work hard to find solutions and work with our partners and supporters to build our fundraising and earn income." Commendable though this attitude is, there's no escaping the fact that a 100% reduction in funding will force a vital national institution to shift its focus from nurturing child literacy to filling a massive deficit of its own.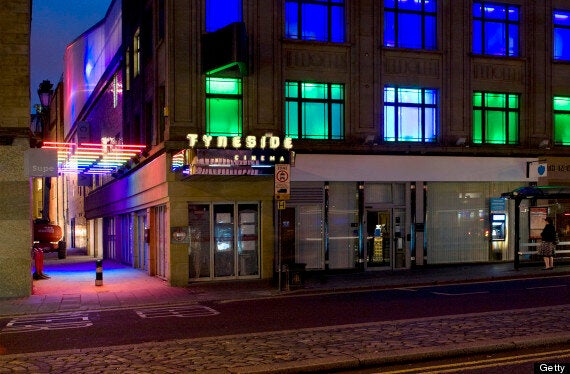 The recently renovated Tyneside Cinema, home to the annual Newcastle Film Festival
All areas of culture in Newcastle are now under threat. The Great North Museum, the Tyneside Cinema, the Northern Stage Theatre, the Dance City centre for dance – even the wonderful, volunteer-ran Star & Shadow arts space are all in line to be seriously affected by the proposed cuts. Reduced opening times, increasing ticket prizes freezing out lower income visitors and the overall destabilising effect of reduced staffing numbers are just three of the probable consequences for cultural institutions that are in many cases, national leaders in their field.
Meanwhile, Newcastle County Council insisted in a recent statement that "the cuts we are being forced to consider are a direct result of the Government's austerity programme", and that they will be doing all they can to protect cultural life in the city.
And it goes deeper than that. Between 1999 and 2006, an enterprise called the Cultural Business Venture pumped £5m into 800 businesses in the creative industry sector, creating 700 new jobs directly and many more indirectly, as areas like the Ouseburn Valley transformed from derelict ghost town to thriving hubs of bars and hotels focused around new arts venues.
What is so baffling for many in Newcastle and beyond is why, after showing the world how an entire region can be regenerated by making a commitment to the arts, Newcastle County Council are now choosing to run so forcefully in the other direction, towards the deceitful populism that dictates in times of trouble, art and culture is dispensable.
Leaving Newcastle, either past the rows of historic bridges by train or Antony Gormley's towering Angel of the North by car, you can't help but reflect on how boldness of vision and independence of spirit are what have helped the city remain one of the most iconic and cherished in British life. As the clamour and outrage at the 100% cuts continues to grow, many will hope those in charge can rediscover those qualities - just as they did 20 years ago.