Two schools in Sweden have been forced to close after students participated in a second day of rioting over an Instagram account which outed 200 local 13 and 14 year olds as "sluts".
Students in Gothenburg turned violent after an anonymous user of the photo sharing network posted names and pictures of teenage girls and boys, labelling them "sluts" and "whores". The Instagram member, who is reported to attend Plusgymnasiet high school which is at the centre of the rioting, also detailed the alleged sexual activities of the teens.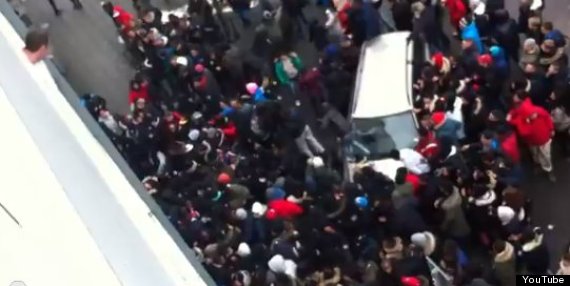 Students rioting outside Plusgymnasiet high school for a second day, in the wake of the Instagram 'slut' allegations
The allegations on the Facebook-owned app have been described as "racist" and "extremely offensive".
Several bottles and rocks were thrown at police who tried to intervene after the schools were barricaded by "unruly" students, according to Swedish paper The Local.
The 17-year-old girl believed to be behind the original account shared the incriminating pictures after asking for details on the "sluts in Gothenburg" and promising anonymity to those who submitted information.
Although the Instagram account has since been shut down, the allegations then appeared on a Facebook page, amid threats to beat up the 17-year-old girl. The teenager, who protests she is innocent, is currently being formally investigated for slander by police.
Jörgen Frohm, headteacher at Framtidsskola high school, the second school to shut, told TT news agency: "There are rumours that they'll be coming at us, but we have no idea why."