Wintery wet weather and torrid traffic congestion is hitting the country as nearly four million Britons head abroad for the festive period.
Those staying at home are promised a sodden, rather than a white Christmas.
Road, rail and aviation will all be under pressure on Friday which is predicted to be the busiest day of the Christmas getaway.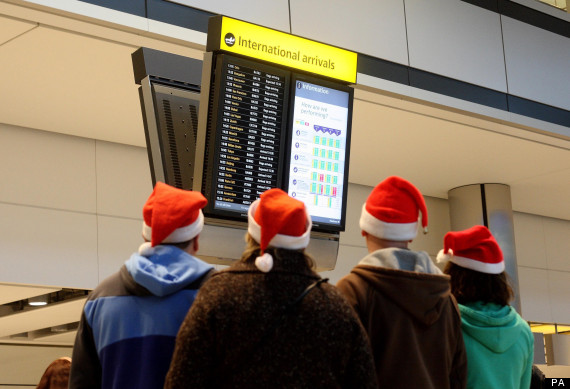 Heathrow is expecting it's busiest festive day on Friday
Many of those heading overseas are taking advantage of bumper snow levels at ski resorts.
Travellers seeking winter sun are choosing such destinations as the Canary Islands, Tunisia, Cuba and Mexico.
At home, roads are expected to be packed tomorrow, although a number of major route roadworks have been completed or are being suspended during the festive period.
On the railways there are far fewer bus replacement services this Christmas than last.
But major engineering work will mean restricted services on a key London to Scotland line - the West Coast - while some other routes will also be subject to alterations.
On the Underground, the train drivers' union Aslef is stopping work on Boxing Day in a strike that has already led to the postponement of the London football derby between Arsenal and West Ham United.
Forecasters said heavy rain would persist in many areas for much of the next few days, with temperatures well above normal and as high as 14C (57F) in southern England on Sunday.
Heathrow is expecting its busiest day of the festive period on Friday, with 123,000 passengers leaving from the west London airport.
It will handle a further 114,000 departures on Sunday and 88,000 on Christmas Eve.
From tomorrow until January 3, a total of 700,000 will be leaving from Gatwick airport, 320,000 from Manchester, 300,000 from Stansted, 125,000 from Luton, 116,000 from Birmingham and 75,000 from Glasgow.
In addition over the period from tomorrow to the end of Christmas Eve 52,000 will fly from Edinburgh airport and 56,000 from Bristol.
Travel organisation Abta said popular overseas spots for new year revellers include Paris, Reykjavik, Rome, Dublin and New York.
Many hundreds of thousands will also travel across the English Channel by ferry or through the Channel Tunnel, with 160,000 heading off on high-speed trains run by Eurostar.
On the roads, the Highways Agency, which is responsible for all of England's motorway and major A-roads, said more than 250 miles of roadworks will have been completed before Christmas.
In addition, a further 57 miles of works will be suspended between tomorrow and January 2.
But works remain in place at 19 locations covering nearly 100 miles.
These include the M4 between junctions 10 and 11 at Reading in Berkshire, the M25 at junctions 5 and 6 near Godstone in Surrey and the M5 between junctions 19 and 21 near Bristol.
The AA said the busiest days on the roads were expected to be tomorrow and Saturday, with 60% of AA members likely to take to the roads over the festive period.
Northern Ireland drivers were most likely to get behind the wheel over Christmas, with the Welsh least likely to.
The busiest roads this weekend are likely to be the M25, the M6 in the West Midlands, the M1 near Milton Keynes in Buckinghamshire, the M5 near Bristol and the M62 near Warrington in Cheshire.
Apart from the Aslef Tube strike, the main train problem is likely to be engineering work on the West Coast line.
This will mean there will be no direct services from Euston station in London to Milton Keynes, Birmingham, Manchester, Liverpool or Glasgow on December 23 and 24.
Hourly services will run from Euston via an alternative route (Chilterns) to Nuneaton where passengers will be able to change for services heading to any and all the destinations mentioned above.
Direct services resume on December 27 but with two of the four lines closed up to and including New Year's Eve.
There is engineering work affecting a number of other lines, although Network Rail and the Association of Train Operating Companies have said that the number of replacement buses having to be laid on has almost halved compared with the 2011/12 festive period.
VisitEngland said that over the festive period as many as 12 million Britons intend to take at least one trip in the UK involving an overnight stay.
These trips are likely to generate around £2.1 billion for the economy.
Of those taking trips involving overnight stays, 35% said they are going to be away for longer than last Christmas.
Car insurance company Axa said that in the last three years accident claims for the period December 19-24 were 28% higher than for the rest of the month.
According to Halfords Autocentres, 59% of drivers ignore traffic reports and 36% do not check what weather they are likely to encounter on their travels.
A MoneySupermarket poll showed that 76% of drivers admitted taking their eyes off the road at some point, while 54% owned up to changing music while at the wheel, with 47% eating while driving.
Esure car insurance said as many as 23 million drivers could take to the roads over the holiday period, with many people planning to leave work early tomorrow.
An esure poll showed 33% dread the Christmas getaway, with 57% concerned about the weather and driving conditions and 41% worried about traffic jams.
Another survey, from Asda Money, revealed that 61% of motorists do not service their car before they hit the road in winter.
Only 30% of drivers check the anti-freeze, only 17% test their tyres and 49% never check their oil.
As many as 26% of drivers intend to drink and drive over the festive period, according to a poll by the Post Office.
The biggest risk-takers are those in their 20s, with the worst offenders - in all age groups - likely to be from London and south east England.
A poll by the RAC showed that 18% of 17 to 24-year-olds admitted knowing, or believing, they had driven under the influence of drink.