Toy company Hasbro has had its fair share of toddlers with 'tude throwing their sexist toys out of the pram this year.
It feels like just yesterday that a 6-year-old wrote to Hasbro complaining that there were more male characters than female on Guess Who? (and quickly became HuffPost UK Lifestyle's new feminist hero).
Now we find ourselves at the tail end of a story about a toy oven, which has been bubbling in the US for weeks, and thankfully, because it's Christmas, there is a happy ending.
Hasbro has said it will release a gender-neutral version of its popular Easy-Bake Oven after a teenage girl from New Jersey called for a product that could appeal to all children.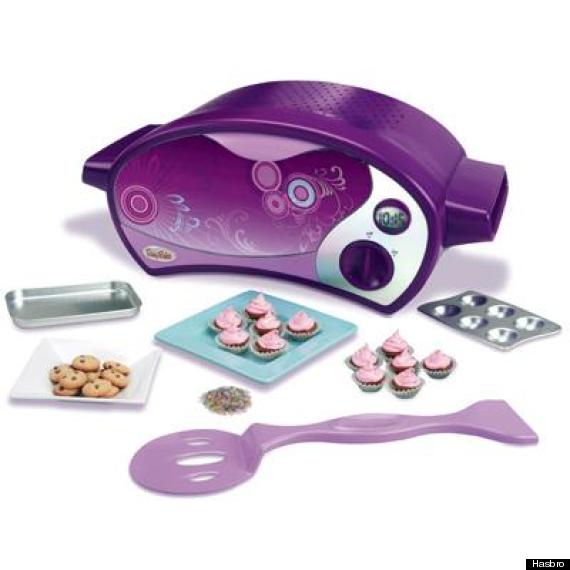 The Easy-Bake Oven in purple and pink
McKenna Pope, 13, started an online petition on change.org, complaining that the toy's gender-specific packaging excluded her 4-year-old brother, who dreams of being a chef and asked for the oven as a Christmas present. McKenna Pope and her brother
"We found it quite appalling that boys are not featured in packaging or promotional materials for Easy Bake Ovens," McKenna writes on the campaign's site. "And the oven comes in gender-specific hues: purple and pink.
"I feel that this sends a clear message: women cook, men work... I want my brother to know that it's not 'wrong' for him to want to be a chef."
HuffPost UK's Most Inspirational Women Of The Year
After securing more than 45,000 signatures on the petition, the toy manufacturer invited McKenna and her family to its head office on Rhode Island to unveil their newest product: an Easy-Bake Oven in blue, black and silver.
John Frascotti, Hasbro's chief marketing officer, said that since the toy was first launched over 30 years ago, the toy has had many different colour schemes including yellow, green and silver. McKenna Pope with Easy-Bake Ovens from over the years
"It's actually a product that's played with by both boys and girls," he said. "We will continue to offer the existing product too because it's so popular."
It's not the first time that a toy company has made a stand against this year against sexist toys, Swedish Toys 'R' Us published a Christmas catalogue using images that challenge gender stereotypes.