At first glance it appears to be an average family Christening, but a closer look reveals a ghostly face hovering in the background.
The apparition was not noticed until the image was posted on Facebook - leaving the family involved in shock.
And according to Heather Sewell, the ghost is that of her late husband Terry.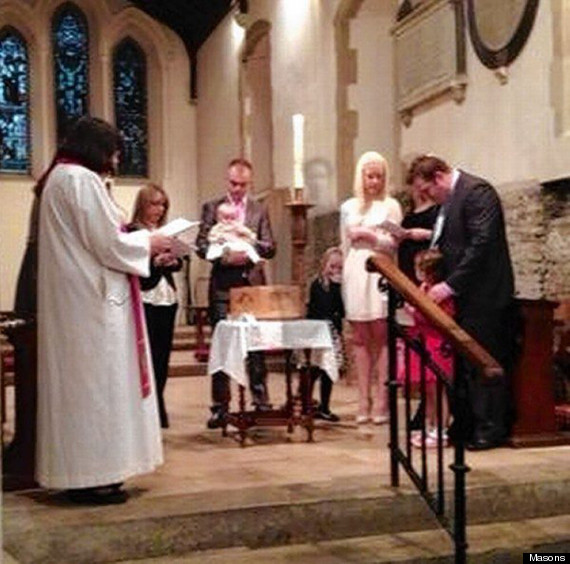 Grandmother Heather Sewell says the ghostly face in this Christening picture is that of her late husband Terry
The face, which can be seen hovering over granddaughter Mia-Bella Kennett, was caught on a mobile phone camera.
It wasn't until Heather was looking through the photos online later that evening she spotted her late husband in the scene at St Martin's Church, Canterbury, Kent.
The 50-year-old said: "I was so shocked when I saw it, as we all were. "It looks very much like Terry. I know there has been no photo trickery so it is all very spooky and perhaps not what you want to see at a Christening.
"I was in the pub afterwards when I first saw the Facebook page and everyone was stunned because it's so clear."
Terry Sewell hanged himself 17 years ago.
St Martin's is the oldest church still in use for religious services in the country but there has never before been any previous ghostly sightings.
SEE ALSO:
Heather added: "It was actually a bit upsetting to see his face. I tried to convince myself that it was not Terry - but it is so convincing that I believe it is.
"Terry had a long face and so does the ghost and it has the same hair style as Terry had.
"The ghost is also the same height as Terry was - about 5ft 8in. I am quite a superstitious person, but I am not over-the-top.
"I do believe there is something out there - there are too many things in the world we cannot explain."
The 14 Scariest Ghost Stories