Ji Dong-Won has scored just two goals for Sunderland since his 2011 transfer but hasn't had a kick in red and white all season. His first strike was a consolation in a 2-1 defeat to Chelsea but on New Year's Day he achieved cult status against Manchester City at the Stadium of Light.
The Black Cats had lost just one of their opening four matches under Martin O'Neill when the league leaders journeyed north for the teams' first fixture of 2012, buoyed by Manchester United's shock New Year's Eve loss at home to Blackburn Rovers. Nil-nil on 90 minutes, in a madcap finish both sides discarded reticence and went for the win in scenes reminiscent of lunchtime football at school.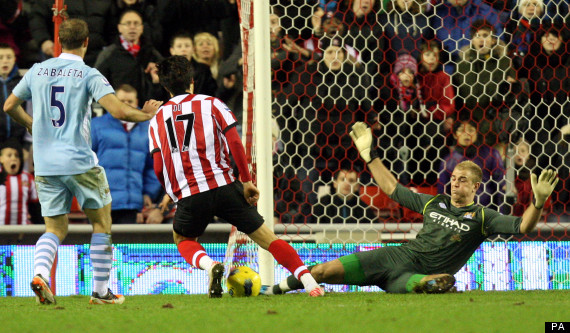 Ji Dong-Won ensures his cult status on Wearside
And it was South Korean Ji who pounced, prompting Martin Tyler to shriek so loud it would take an incredible occurrence - something like a stoppage-time Premier League title winner on the final day of the season - to surpass it. He was actually offside when Stéphane Sessègnon slipped him through to 'beat' the City offside trap, but remained composed and rounded Joe Hart before slotting the ball into the empty net.
One of the Premier League's money moments of last season, the pandemonium which ensued was sealed with a kiss from a delighted Mackem as Ji embraced his followers.
Fast-forward 12 months and the result was ultimately inconsequential to City while Sunderland and O'Neill would enjoy a three-month honeymoon which ended when Everton dumped them out of the FA Cup in the last eight. They would not win any of their nine remaining games.
O'Neill has guided Sunderland to just 17 wins in all competitions since his appointment in early December last year but two victories in their last three have elevated them to four points above the relegation zone. City won 3-0 in October
Had City not won their first league championship in 44 years no amount of skin grafting could have covered the scars of the Sunderland loss. Defeat to Arsenal on Easter Sunday - which left them eight points behind United - was signalled as the end of their title challenge when in the previous match Sunderland held them to a 3-3 draw at Eastlands. Although 'held' is inaccurate; the visitors were 3-1 up with five minutes remaining but a volatile City - with Mario Balotelli at his most tiresome - recovered to earn a draw.
It was more comfortable this season for Roberto Mancini. A routine 3-0 win banished some of the memories of the incompetence against O'Neill's team last season but in the previous campaign a Darren Bent penalty in added time dispelled the notion City would compete for the league as early as August.
But City have learnt from the two late finishes against Sunderland since then, which is why the Premier League badges on their sleeves are golden.