Two young brothers killed in a motorway crash on Christmas Day were today named by police.
Adnan Habib, 10, and Mohammed Arsalaan Habib, four, died after the car they were travelling in crashed and overturned on the M6 near Stoke-on-Trent at about 11.25am yesterday.
A 32-year-old woman passenger in the car also died. She was named by Staffordshire Police as Bushra Tazarib. Police did not reveal what her relationship with the boys was.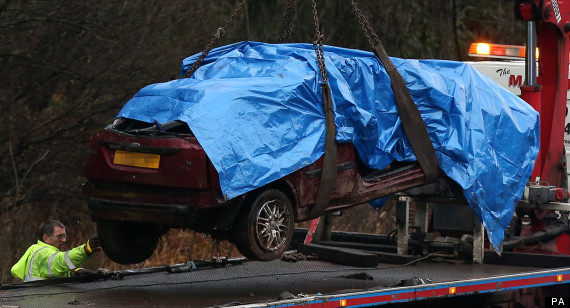 A general view of the scene of a crash on the M6 northbound carriageway between junctions 14, near Stafford, and 15
All three were from High Wycombe in Buckinghamshire, and had been travelling north on the M6 to attend a family wedding in Greater Manchester, Staffordshire Police said.
The boys' mother - who was driving the red Ford Focus - and a female relative who was a fellow passenger were both injured, and were taken to hospital.
They were today discharged from the University of North Staffordshire Hospital, and were now on their way home, police said.
A Staffordshire Police spokesman said: "We can now name those who were tragically killed in the car crash on the M6 in Staffordshire yesterday.
"They were two young brothers: Adnan Habib, aged 10; and Mohammed Arsalaan Habib, aged four; and a 32-year-old woman, Bushra Tazarib.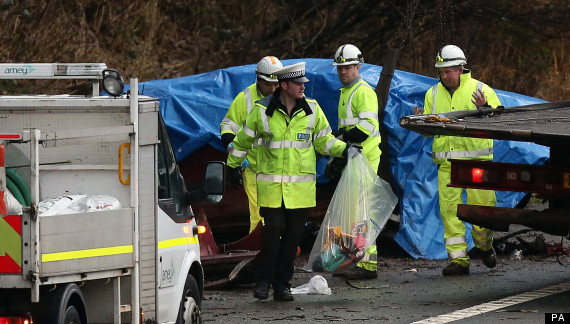 A policeman with a bag of items removed from the crashed car at the scene on the M6 northbound carriageway
"All three were from High Wycombe in Buckinghamshire. They were travelling to a family wedding in the Greater Manchester area when the car they were travelling in crashed on the M6 motorway in Staffordshire, near to junction 15.
"Specially trained liaison officers have been appointed to support them at this incredibly difficult time for the family."
Chief Superintendent Martin Evans, of the Central Motorway Police Group (CMPG), described the incident as "unimaginably sad and tragic".
He said: "The thoughts of all officers and emergency services colleagues involved are with the bereaved families at this extremely difficult time and specially trained family liaison officers have been appointed to support them."
Meanwhile, officers have issued a public appeal for more information to try and piece together what might have caused the accident, which is believed to have involved one vehicle.
Investigations are in the hands of the CMPG Collision Investigation Unit, which can be contacted on 01785 234094.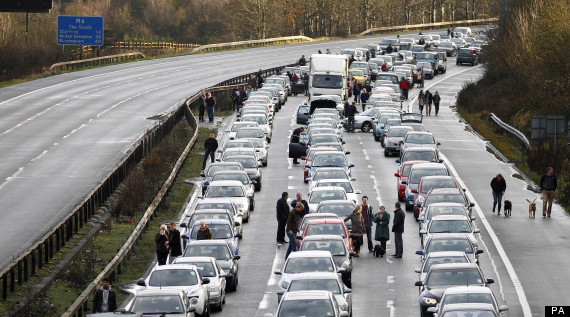 The motorway was closed in both directions after the crash
The incident led police to close the motorway in both directions for three hours from junction 14 at Stafford, to junction 15 at Stoke.
At the crash scene, medics were supported by two air ambulances, and colleagues from the fire and police services.
West Midlands Ambulance Service spokesman John Hawker said: "Crews arrived to find a single vehicle that had crashed and overturned.
"Two children and an adult that were travelling in the vehicle suffered serious injuries.
"Unfortunately, despite the best efforts of ambulance crews, nothing could be done to save the two boys and one woman, and they were confirmed dead at the scene.
"Two other women travelling in the car, both received emergency treatment at the scene for their injuries and were transferred by land ambulances to University Hospital North Staffordshire on blue lights for further treatment."
Mr Hawker added: "All emergency services personnel worked seamlessly together at the scene in exceptionally difficult circumstances.
"Unfortunately, the outcome was not the one everyone would have hoped for."