Sir David Attenborough's new BBC wildlife series will tell viewers when animals are filmed in specially controlled conditions after an episode of Frozen Planet was criticised as fake.
The BBC was criticised for failing to inform viewers that scenes of a polar bear with her newborn cubs in last year's natural history series were actually filmed in a zoo.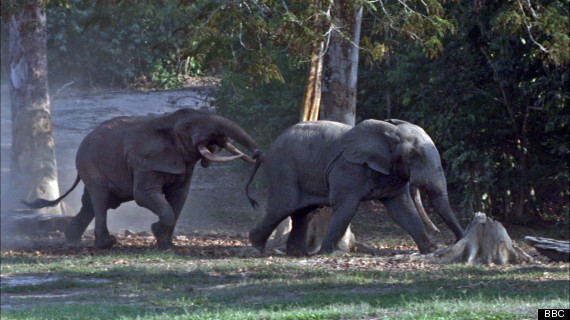 'Africa' will be legit, say the BBC, except when it isn't
Producers say that the new BBC Two series 'Africa' will make it clear in Sir David's commentary when controlled filming is used.
"Because of the reactions to the polar bears being filmed for 'Frozen Planet' it was appropriate to be more explicit... we feel it is important to maintain trust and credibility with the audience," series producer James Honeyborne said.
MORE: Sir David Attenborough Tells HuffPostUK: 'There's Only One Place Left To Discover'
"What's important to us is to be able to share great moments of animal nature, and some controlled filming allows us to do that.
"We're proud of those sequences because they reveal new aspects of behaviour that you can only see filmed in this way," he said of the shots featuring a mole rat and a rock python.
"We know that the audience wants to know, and we don't have a problem with it. We're not embarrassed about it, we're absolutely proud of it."
'Africa' explores some of the lesser-known stories of the continent's wildlife and features the shoebill bird, which hatches two eggs and then deprives its younger chick of food and drink to allow it to die.
Honeyborne told the Radio Times: "Very little is known about the shoebill and it has hardly ever been seen.
"It took us four weeks to find a nest, and once we located one the crew had to drag canoes full of equipment for two days through the swamp and then camp for a month on a half-drowned ants' nest while filming."
Some stunning images from the new series...
Sir David Attenborough's Africa