Sir Alex Ferguson has come under more criticism after his Boxing Day tirade at three officials spearheaded a four-pronged managerial attack on Premier League referees.
Roberto Mancini, Harry Redknapp and Roberto Martínez all had gripes with their match officials in defeat while Ferguson, 71 on New Year's Eve, aired his fury over Newcastle United's second goal at Manchester United.
Ferguson was incandescent Mike Dean overruled the linesman's decision to flag Papiss Cissé as offside after Jonny Evans had scored an own goal. Evans was in contact with the Senegalese, making the manner of his clearance as unnatural as it was unclean, suggesting Cissé had influenced the play and was active.
Dean however disagreed and instead took the decision to award the goal - giving the Magpies a 2-1 lead - and later failed to award United a clear penalty.
With the benefit of a half-time replay an apoplectic Ferguson confronted the Merseyside referee, the fourth official and the linesman before the re-start. Perhaps motivated by the perceived injustice, his lacklustre side went on to win an absorbing encounter 4-3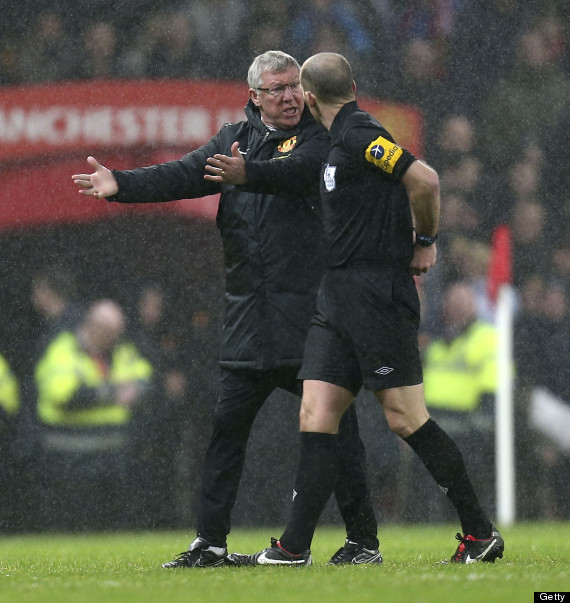 Ferguson makes his point to Mike Dean
On Wearside, Manchester City manager Mancini was justified in his gripe at Sunderland's winner, which came seconds after a clear foul on Pablo Zabaleta. The Italian, renowned for his forthrightness, could not hide his annoyance with referee Kevin Friend.
"The referee maybe ate too much for Christmas. He was not in good form," Mancini remarked. Sunderland's victory leaves City seven points adrift of United.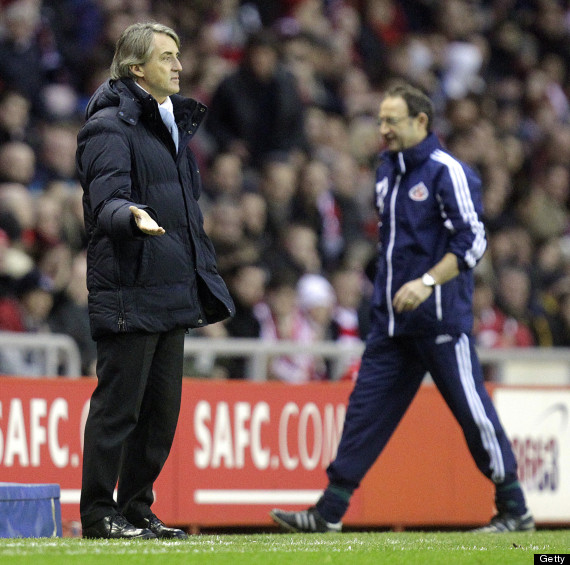 Mancini is not amused
Wigan coach Martínez meanwhile was angered at another non-foul and another non-penalty at Everton. Four days after the Latics were denied two spot-kicks at home to Arsenal, Leon Osman's trip on Shaun Maloney was ignored by Lee Mason, who contradicted his decision by not booking the Scot for simulation. Like City, Wigan too lost their match.
As did Redknapp's QPR. West Brom's winner in the 2-1 encounter came after Marc-Antoine Fortuné had backed into an admittedly feeble Rob Green, who parried the ball into his own net. Chris Foy then failed to notice an obvious handball by Liam Ridgewell after the Rs had halved the deficit and pursued an equaliser.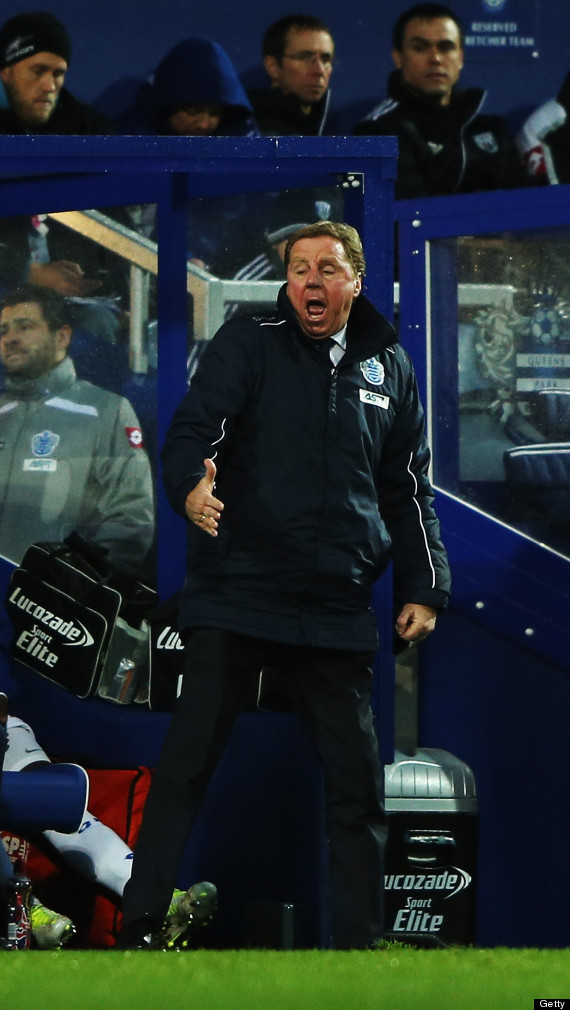 Redknapp didn't hold back with his analysis
"He should have gone to Specsavers," observed Redknapp.
All four managers are unlikely to be charged by the Football Association but it is feasible at least half of them will. What should not go unnoticed is that they are all correct in their assessments and the referees - again - are being protected as their standards slip.
Ferguson drew the ire of many an outraged tweeter, yet little was said about Newcastle manager Alan Pardew or assistant John Carver confronting officials after Evans' own goal was initially disallowed.