The Daily Mail has triggered a huge backlash on Twitter for "manufacturing" outrage over a Channel 4 comedy show in which "comedians guzzled wine and egged each other on to trade obscene jokes about the Queen, Philip and Susan Boyle".
The Big Fat Quiz of 2012, broadcast on Monday evening and starring Jimmy Carr, Richard Ayoade, Russell Howard, Jonathan Ross, Jack Whitehall, James Cordon and Gabby Logan, was lambasted by the newspaper for its "countless vile sexual jokes".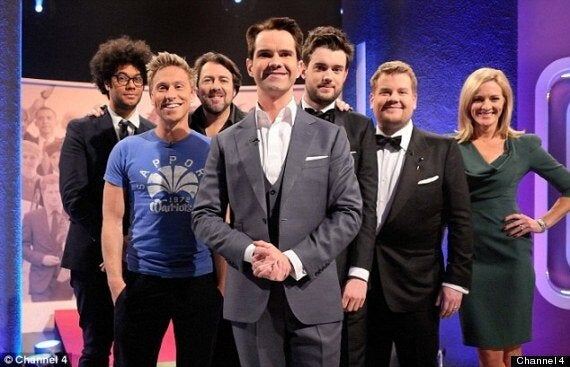 "Obscene jokes about the Queen, Philip and Susan Boyle"
Gavin and Stacey star James Corden, 34, and comedian Jack Whitehall, 24, came in for particular criticism from the newspaper for appearing to "drink a bottle of wine each on screen".
Whitehall made a joke about the bladder infection suffered by the Duke of Edinburgh last summer and also said that Olympic gold medallist Bolt could 'rake it in' by going to stud like the retired racehorse Frankel.
TV watchdog Ofcom confirmed that it had received complaints about the show but would not say how many.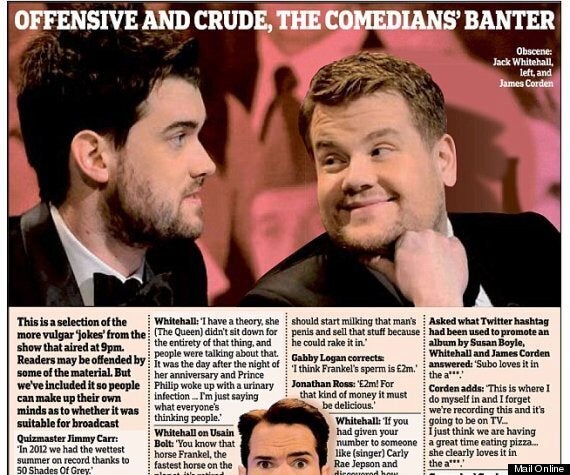 The Mail was so upset it reprinted the "sick jokes" in full
However, The Mail's opprobrium was met with derision on Twitter on Wednesday morning, with users lining up to point out the hypocrisy of the paper which, having complained about the "sick jokes", then reprinted them in full.
A Channel 4 spokesman told The Mail: "Big Fat Quiz Of The Year is a well-established comedic and satirical review of the year's events with well-known guests and is broadcast after the watershed with appropriate warnings."
The Daily Mail has caused raised eyebrows in the past for stirring up controversy where viewers or readers had previously been uncomplaining.
Packaging News reported: "It has been suggested that the letter was part of an elaborate ploy to raise awareness of a new sampling campaign for Haribo." The company denied it was a publicity stunt.