Could Theo Walcott be about to put an end to being associated with contract clichés (rebel, impasse, etc.) and sign da ting with Arsenal? Apparently so since the Gunners are abandoning their interest in Crystal Palace winger and self-proclaimed third best player in the world Wilfried Zaha.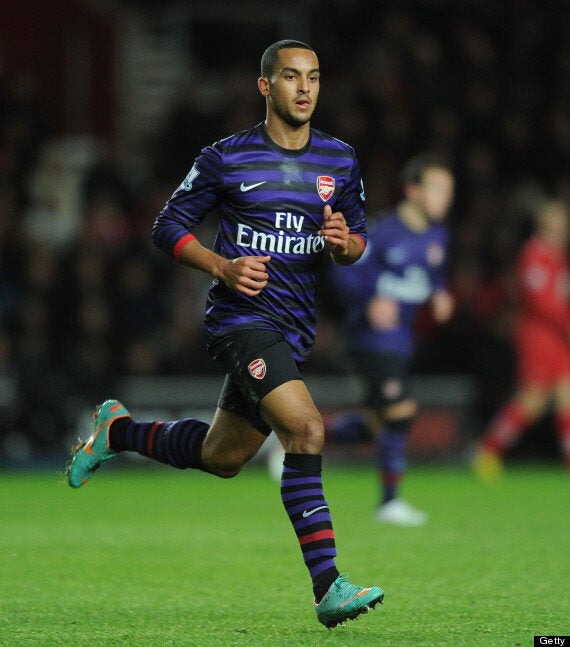 Walcott at St Mary's on Tuesday night
That, however, is according to talkSPORT, so take it with a shovel of salt. Walcott is of course Arsenal's top scorer this season and the New Henry after he scored three times against the sixth worst side in the Premier League. He has improved, but is he worth the £100,000 a week?
Southampton full-back Luke Shaw, 17, was last night earmarked as "an Arsène Wenger signing" and he is already being linked with the Gunners. ESPN claim Manager Nigel Adkins is nevertheless determined to keep the teenager, although it seems very much like a case of when rather than if Shaw leaves in the near future. Shaw vies for the ball with former Saint Oxlade-Chamberlain
Saints striker Rickie Lambert has supposedly interested West Ham, but the club has rejected an offer for the 30-year-old striker, write the Mirror. Lambert has scored eight goals in 19 appearances for the the south coast side.
Not happy at Newcastle's defence conceding three goals to Theo Walcott, Alan Pardew is already close to signing long-term target right-back Mathieu Debuchy, but with Demba Ba supposedly waiting in the exit lounge he may be in need of a new striker too. Peter Odemwingie is such a contender, say the Sun, even if, at 31, he is four years older than Ba.
Ba's departure would at least see Papiss Cissé return to the striking role he belongs after Pardew's ill-advised habit of playing him on the right wing.
QPR manager Harry Redknapp hasn't taken long in expressing candour in the transfer window. He admitted he would like Joe Cole, 31, at Loftus Road but six-figure-a-week Cole best be prepared for a wage cut. Redknapp said last month QPR have "had their pants pulled down" by agents this season, having paid £6.8m to footballers' representatives. Liverpool flop Cole wouldn't cost much but Mr 15 Per Cent could be a stumbling block. Don't put much stake in the following. Marouane Fellaini has said he is happy to stay at Everton for the remaining three-and-a-half years of his contract, report the Liverpool Echo. This is the same Fellaini who has twice aired his desire to leave the club in the current transfer window or after the season ends.
Popular in the Community