It's been a busy week for Dancing On Ice professional Sylvain Longchambon - not only was he rehearsing for his debut performance with rumoured new romantic interest Samia Ghadie, he also found time to move out of the love nest he shared with Jennifer Metcalfe.
The drama erupted late last month when it was revealed that the Coronation Street beauty split from her boyfriend Will Thorp in early December amid speculation she was growing close to Sylvain.
The reports came as it emerged Sylvain had split from his Hollyoaks girlfriend, and Jennifer went public with her heartache over the weekend, revealing she was dumped on Christmas Day and that the separation felt "like a death".
Her comments came on the day her ex made his debut performance on the ice with Samia, and the actress appeared shaken and upset in pre-recorded footage as she dealt with the press attention she had garnered.
Samia explained, "There's been a lot of speculation about me and Sylvain's relationship and its not made things easy if I'm perfectly honest, it's added a lot of pressure and worry."
But despite the hectic week with headline drama and skating rehearsals, Sylvain also fitted in a trip to the Liverpool pad he shared with Jen to pick up his belongings.
In exclusive snaps obtained by The Sun, he can be seen carrying a laundry basket overflowing with his belongings, boxes - and even a vacuum cleaner.
Sylvain then headed back down South to the home he has been sharing with other dancers near the show's studio in Elstree.
A source tells the publication, "He's not far from Samia as she is staying at the Holiday Inn just up the road."
Samia and Sylvain's routine to Rihanna's Diamonds got them through to the next round of the contest as Pamela Anderson and Keith Chegwin were both in the skate-off.
Curvy Pammy struggled to contain her assets as she showed off her moves to Sinead O'Connor's Sacrifice with partner Matt Evers - she suffered a wardrobe malfunction when her dress slipped down to reveal part of her breast.
The Baywatch actress told co-host Phillip Schofield, "My dress fell off! (I was) a little wobbly."
The judges opted to save Keith, but the blonde beauty was gracious in defeat.
Speaking as she was booted off the show, the actress said, "(I feel) sad. It was really fun and now I know how to skate a little bit. I'll keep skating for sure. I feel so bad, I'm sorry Matt - he should not be here. I just stumbled, my dress, my boobs fell out, it happens."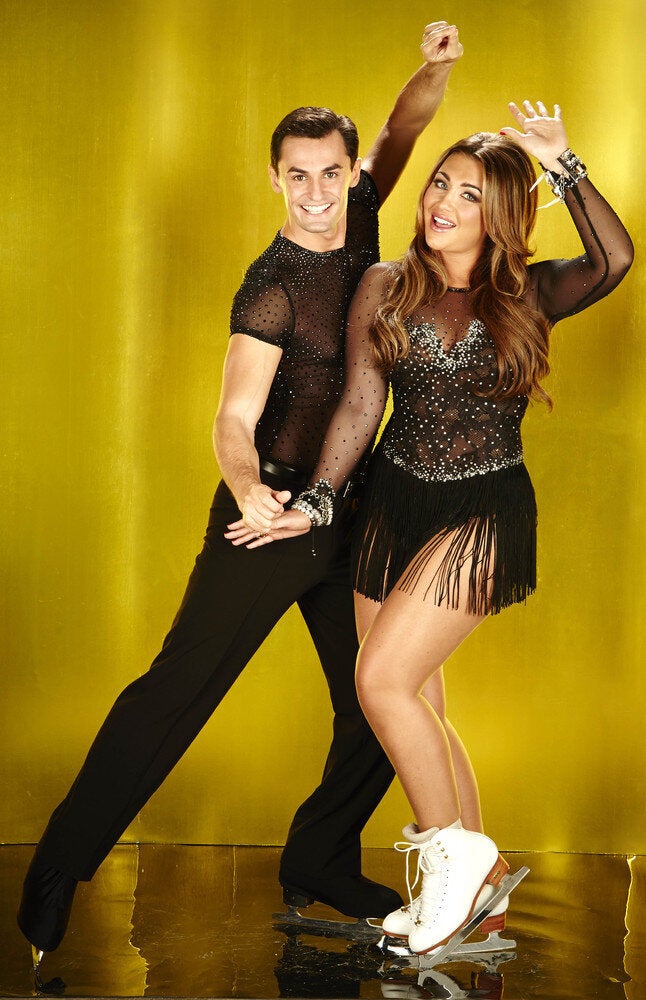 Dancing on Ice 2013 Line up