A mysterious photograph of a bright, crumpled object on Mars taken by the Curiosity rover has caused controversy, after some dubbed it a "Martian flower".
The shiny, white object was pictured embedded in a rock, in an image taken by the Mars Hand Lens.
"Flower? My first thought was crystal. Could be a life-form. It looks sort of squishy," said one user of Above Top Secret.
Others said it was more likely to be a piece of plastic from the rover itself: another similar object was explained in this way back in October.
Meanwhile, another picture from the planet also caused excitement - followed by mild disappointment - after picturing a formation named "Snake River", though it too offered no evidence of life on the desolate dry Martian surface: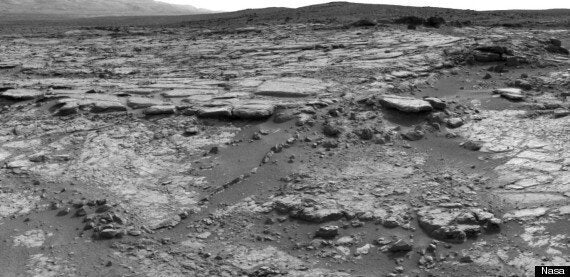 The picture shows a thin and long line of curving rock, like a small ridge.
Nasa said it might make a good place for Curiosity to investigate.
"It's one piece of the puzzle," said rover mission project scientist John Grotzinger.
"It has a crosscutting relationship to the surrounding rock and appears to have formed after the deposition of the layer that it transects."
The $2.5 billion rover is set to start drilling for the first time next week, six months after landing on Mars.