It was a great night for the Brits at last night's People's Choice Awards in America - both One Direction and The Wanted triumphed at the ceremony held at the Nokia Theatre in Los Angeles.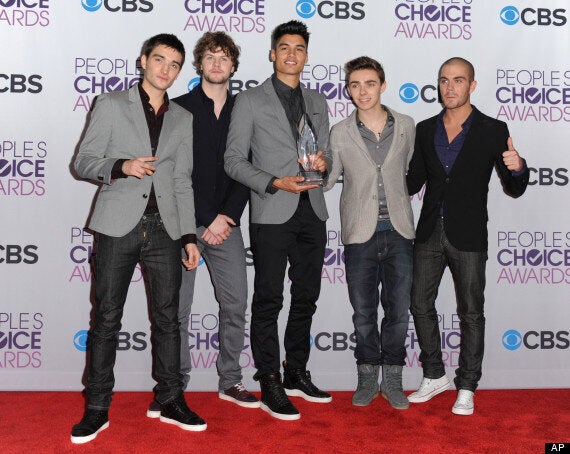 The Wanted attended the ceremony in Los Angeles on Wednesday night
The boyband rivals were both big winners, with One Direction picking up the first award of the evening before the ceremony even got underway - their 'What Makes You Beautiful' hit was announced as the Favourite Song during the pre-show red carpet event.
Despite not even being in attendance, the 1D boys then went on to win the Favourite Album prize for their first album 'Up All Night'.
After also beating the likes of Fun. and Carly Rae Jepsen, The Wanted lads were visibly stunned.
The Wanted picked up the award for Favourite Breakout Artist
Max George told screaming fans at the ceremony: "This never happens to us. We've never won anything before... We never expected this at all... To win this and beat the people that we have..."
And bandmate Nathan Sykes admitted the win was a dream come true for him, adding: "Over Christmas, I was sat down with my mum and we were kind of talking: 'What do you want to do this year...?' and I said, 'The one thing I want to do is win a massive award...', so this is unbelievable."
The boys then performed an acapella version of the Starland Vocal Band's hit 'Afternoon Delight', which they dedicated to another People's Choice winner, comedienne and chat show host Ellen DeGeneres, for her support.
Katy Perry was the big winner of the evening, picking up the awards for Favourite Pop Artist, Favourite Female Artist and Favourite Music Video, while her fans the KatyCats earned her the Favourite Music Fan Following trophy.
Check out all the pics from the event below and scroll down for a full list of the winners.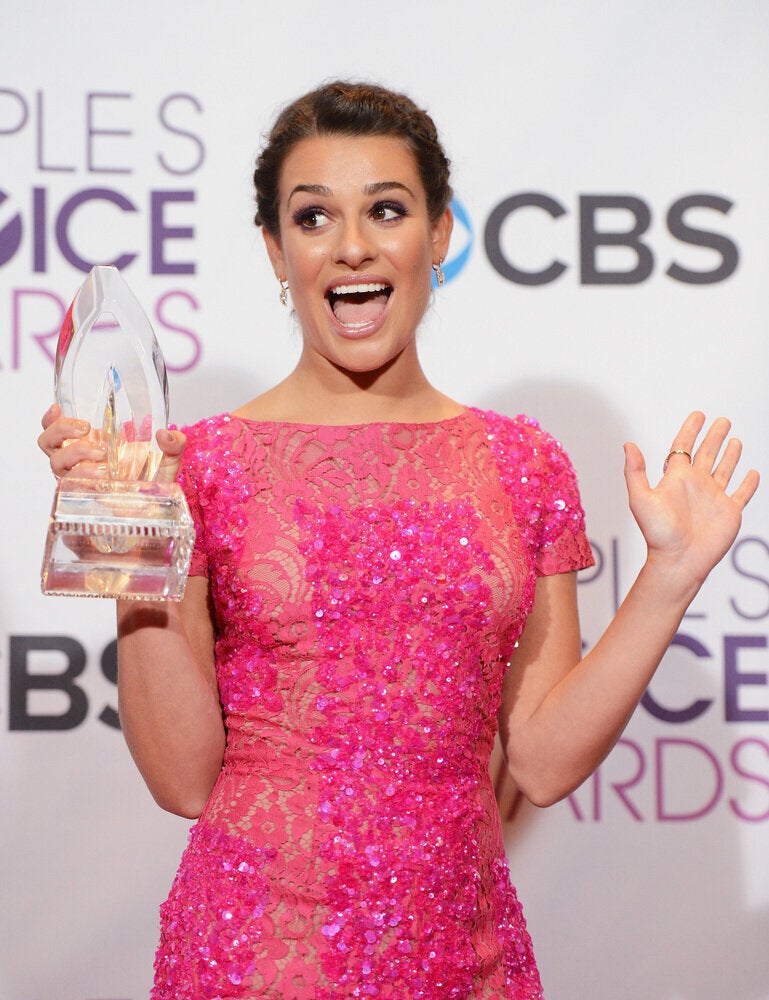 39th Annual People's Choice Awards
Favourite Song - What Makes You Beautiful by One Direction
Favourite Cable TV Comedy - Awkward
Favourite Late Night Talk Show Host - Jimmy Fallon
Favourite Comedic Movie Actress - Jennifer Aniston
Favourite Country Artist - Taylor Swift
Favourite Sci-Fi/Fantasy TV Show - Supernatural
Favourite Band - Maroon 5
Favourite Daytime TV Host - Ellen DeGeneres
Favourite Comedic TV Actress - Lea Michele (Glee)
Favourite Comedic TV Actor - Chris Colfer (Glee)
Favourite Comedic Movie Actor - Adam Sandler
Favourite Breakout Artist - The Wanted
Favourite Movie Actress - Jennifer Lawrence (The Hunger Games)
Favourite Pop Artist - Katy Perry
Favourite Female Artist - Katy Perry
Favourite Music Video - Part of Me by Katy Perry
Favourite Music Fan Following - Katy Perry's KatyCats
Favourite Dramatic TV Actress - Ellen Pompeo (Grey's Anatomy)
Favourite Network TV Drama - Grey's Anatomy
Favourite Dramatic TV Actor - Nathan Fillion (Castle)
Favourite TV Crime Drama - Castle
Favourite Movie Actor - Robert Downey, Jr. (The Avengers)
Favourite Movie Superhero - Robert Downey, Jr. (Iron Man)
Favourite Humanitarian - Sandra Bullock
Favourite Dramatic Movie Actress - Emma Watson (The Perks of Being a Wallflower)
Favourite Dramatic Movie - The Perks of Being a Wallflower
People's Voice Award - Christina Aguilera
Favourite TV Fan Following - Supernatural
Favourite Face of Heroism - Jennifer Lawrence (The Hunger Games)
Favourite Movie Fan Following - Twilight franchise
Favourite Movie - The Hunger Games
Favourite Movie Franchise - The Hunger Games
Favourite Action Movie - The Hunger Games
Favourite Onscreen Chemistry - Jennifer Lawrence, Josh Hutcherson & Liam Hemsworth (The Hunger Games)
Favourite New TV Drama - Beauty & The Beast
Favourite New TV Comedy - The New Normal
Favourite Network TV Comedy - The Big Bang Theory
Favourite Movie Icon - Meryl Streep
Favourite Action Movie Star - Chris Hemsworth
Favourite Competition Show - The X Factor
Favourite Comedic Movie - Ted
Favourite Dramatic Movie Actor - Zac Efron
Favourite Male Artist - Jason Mraz
Favourite Hip Hop Artist - Nicki Minaj
Favourite R&B Artist - Rihanna
Favourite Album - Up All Night by One Direction
Favourite Cable TV Drama - Leverage
Favourite Premium Cable TV Show - True Blood