DaMarcus Beasley was a member of perhaps the last 'typical' Manchester City side. A team that included Michael Ball, Paul Dickov, Joey Barton and Bernardo Corradi, they did at least manage to score against Arsenal at the Emirates Stadium, with Beasley the goalscorer.
Since 17 April 2007 City have failed to find the net at Arsenal in the Premier League. They have lost 1-0, 2-0, played out two successive goalless draws and most recently, lost 1-0 in north London. To make you feel old, City were managed by Stuart Pearce when Beasley netted their last goal at the Emirates.
City's loss at Arsenal on Easter Sunday last year was supposed to be the equivalent of waving the white flag. Eight points behind Manchester United with six games remaining, they were a distant second best to the Gunners as Mario Balotelli left his mark both on Alex Song's leg and on the game when he was belatedly red-carded.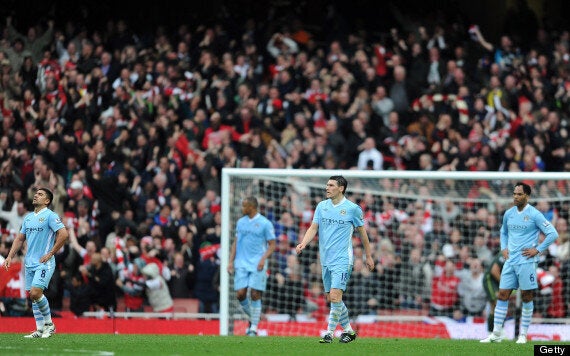 City fell eight points behind after their Easter Sunday loss
Although he has led his team to Ashburton Grove just three times in the league, the Emirates Stadium had already hosted some of Roberto Mancini's most infamous matches as City manager.
The insipid April 2010 goalless draw was a pivotal precursor to the Champions League eliminator against Tottenham 11 days later. Mancini, purportedly alien to what Premier League punters demanded, was unrepentant about his team's approach whereas Arsène Wenger was unsubtle when asked to summarise his opponents
"Man City did not create anything, were highly focused on defending and gave us no space," he insisted. Mancini thought it was a "good result".
The following season, the teams played out an infamous 0-0 as City contentedly sat back to earn another point. Back when Yaya Touré was kept on the leash, Mancini started James Milner, Gareth Barry and Nigel de Jong alongside the Ivorian in an unadventurous midfield. They were just two points behind United at the summit, but their neighbours had two games in hand.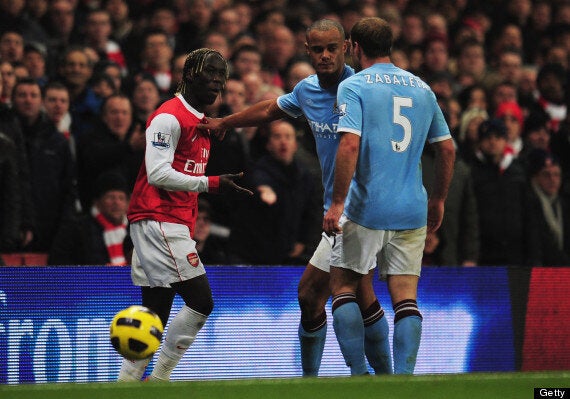 Sagna and Zabaleta were both sent off in January 2011
Against a team once infamous for their tedium, it was now 'boring boring City'.
Sergio Agüero exorcised some demons for his manager when he bagged the winner in last season's League Cup tie in front of 5,000 City followers (those tickets were priced at either £10 or £20, incidentally).
With no midweek matches for either side the build-up has been dominated by the £62 some City fans will have forked out for the privilege of watching their team on Sunday. This is just one of the pitfalls of ending your 35-year trophy drought, usurping your opponents in the league and then winning your first title in 44 years.
City's loss to Sunderland on Boxing Day was a reminder that the 'bogey team' factor, irrespective of teams' personnel and status changing, endures in football. It is an essential reference point for Mancini if City are to take off at the Emirates.
Related