Jennifer Lawrence and her new film 'Silver Linings Playbook' were the toast of the Broadcast Film Critics Association's 18th annual Critics' Choice Movie Awards on Thursday. Jennifer Lawrence collects one of her awards
The cast was also honoured with the Best Acting Ensemble and Lawrence added another trophy to her haul when she was named Best Actress In An Action Movie for 'The Hunger Games'.
Ben Affleck's Argo was also a big winner - the drama bagged the Best Picture honour and Affleck was named Best Director just hours after he was sensationally snubbed on the Oscars nomination list in the same category. Jennifer Lawrence and Bradley Cooper
Addressing the snub, Affleck told the Critics' Choice audience, "I would like to thank the Academy... Just kidding, this is the one that counts!"
Jessica Chastain choked back tears as she accepted the Best Actress accolade for her role in 'Zero Dark Thirty', and Daniel Day-Lewis received a standing ovation as he was presented with the Best Actor award for 'Lincoln'.
Daniel Craig scored a Best Actor in an Action Movie honour for his portrayal of James Bond in 'Skyfall', which stunned the experts by beating both 'The Dark Knight Rises' and 'The Avenger's for the Best Action Movie title. Adele's theme tune for the blockbuster, which also picked up an Oscar nomination earlier in the day, landed the Best Song trophy. Anne Hathaway with her award for Best Supporting Actress
The Best Supporting Actress gong went to Anne Hathaway for her portrayal of prostitute Fantine in movie musical Les Miserables and Philip Seymour Hoffman was named Best Supporting Actor award for his role in The Master. Both started Thursday with Academy Award nominations, as did child star Quvenzhane Wallis, who grabbed the Critics' Choice Best Young Actor/Actress trophy for her role in 'Beasts of the Southern Wild'.
The nine-year-old, who became the youngest ever Academy Awards Best Actress nominee in history on Thursday, brought smiles to guests' faces as she read out her acceptance speech from her iPhone.
The full list of winners is as follows:
Best Actor - Daniel Day-Lewis (Lincoln)
Best Actress - Jessica Chastain (Zero Dark Thirty)
Best Acting Ensemble - Silver Linings Playbook
Best Director - Ben Affleck (Argo)
Best Original Screenplay - Quentin Tarantino's Django Unchained
Best Adapted Screenplay - Tony Kushner's Lincoln
Best Supporting Actor - Philip Seymour Hoffman (The Master)
Best Supporting Actress - Anne Hathaway (Les Miserables)
Best Young Actor/Actress - Quvenzhane Wallis (Beasts of the Southern Wild)
Best Cinematography - Claudio Miranda (Life of Pi)
Best Art Direction - Sarah Greenwood & Katie Spencer (Anna Karenina)
Best Editing - Zero Dark Thirty
Best Costume Design - Jacqueline Durran (Anna Karenina)
Best Makeup - Cloud Atlas
Best Visual Effects - Life of Pi
Best Animated Feature - Wreck-It Ralph
Best Action Movie - Skyfall
Best Actor In An Action Movie - Daniel Craig (Skyfall)
Best Actress In An Action Movie - Jennifer Lawrence (The Hunger Games)
Best Comedy - Silver Linings Playbook
Best Actor In A Comedy - Bradley Cooper (Silver Linings Playbook)
Best Actress In A Comedy - Jennifer Lawrence (Silver Linings Playbook)
Best Sci-fi/Horror Movie - Looper
Best Foreign Language Film - Amour
Best Documentary Feature - Searching for Sugar Man
Best Song - Skyfall by Adele & Paul Epworth
Best Score - John Williams (Lincoln)
Louis XIII Genius Award - Judd Apatow (CL/HR&WNWCGC/KL)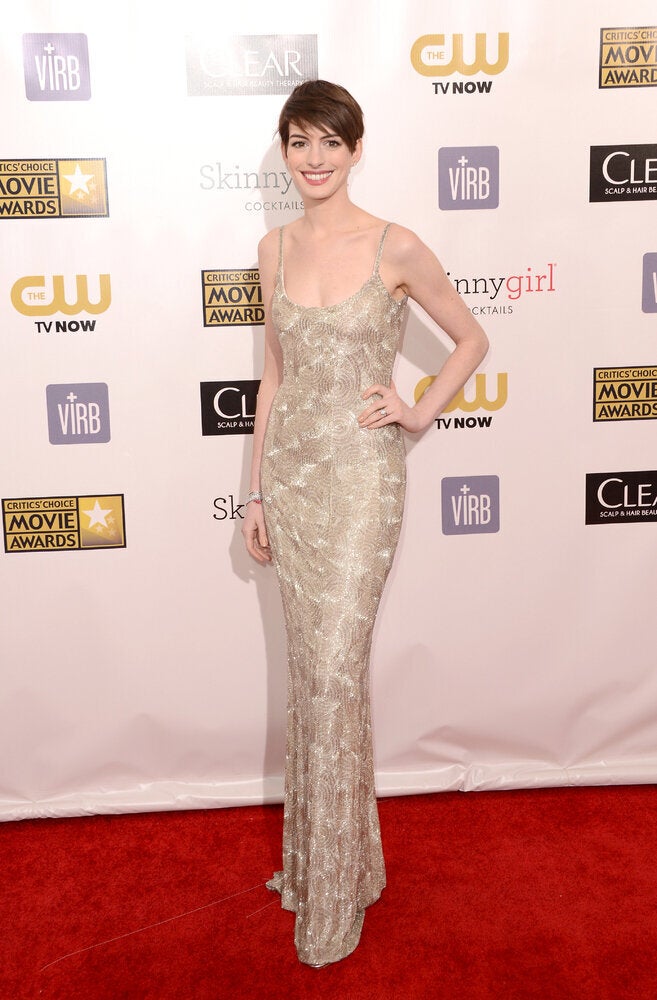 18th Annual Critics' Choice Movie Awards
Popular in the Community