Twitter is chock-full of abysmal parody accounts, from the MarioLAD Balotelli to BigJohnTerry. One account whose posts seem like a parody but actually aren't a parody though is RAWK_meltdown, and ahead of Sunday's Premier League match between Manchester United and Liverpool, expectations are high it will deliver.
RAWK stands for Red and White Kop, which is one of the major online Liverpool fan forums. It is a haven for the paranoid and the deluded, where conspiracies are not so much spitballed as penned over the course of a month, resembling a student's final year dissertation. Almost always the conspiracy will be applauded.
It's knack for the extraordinary is such that often someone will ask "Are these real comments?" A Guardian journalist confessed he didn't realise it was real until otherwise informed it was very real.
The site experienced a nuclear meltdown this week when Howard Webb, who has officiated three United-Liverpool fixtures before, was confirmed to officiate at Old Trafford.
This stems from Webb incorrectly awarding United a penalty in a March 2010 game and doing likewise in a January 2011 FA Cup tie, in which he also sent Steven Gerrard off. Both of those decisions were correct, but then Liverpool attacker Ryan Babel tweeted a picture of Webb in a United shirt, which has fuelled the paranoia among some Scousers.
Several United fans lapped up Monday's Webb announcement not because he favours the club (a ridiculous myth) but because it was guaranteed to rile Liverpudlians.
But whereas Babel's gesture was the lighter side of football, the fixture has succumbed to social media's darker streak. Mark Halsey, who sent off Jonjo Shelvey in the reverse fixture last year and is not on Twitter, was subjected to a number of despicable jibes about the cancer he suffered and has since recovered from. Before that, the Patrice Evra-Luis Suárez race row was horrendously handled by Liverpool the moment one of the club's own writers accused Evra of making false allegations of racist abuse in the past when this was untrue. As soon as Evra made his accusation against Suárez public, tribalism took over on L4.
Some are still genuinely astonished Suárez was suspended for eight matches after he repeatedly called Evra a "negro". Ironically, several ignoramuses insulted Evra by way of racial abuse on Twitter.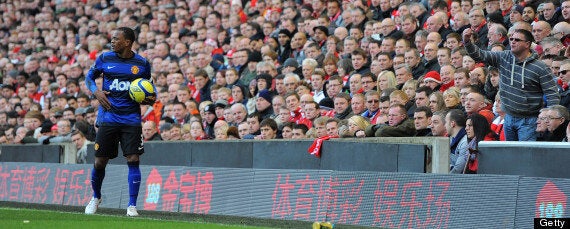 Evra is booed whenever he plays against Liverpool now, which is a worrying indictment of the supporters' attitude towards racism. The unofficial spokespersons who claim the agenda is that he lied are too insular to know Suárez admitted to calling the Frenchman a negro.
Prior to the September fixture Liverpool fans were finally exonerated of any wrongdoing at the Hillsborough disaster. United supporters, the first visitors at Anfield after the report had been published, came under the microscope due to the occasional penchant of some to serenade the 1989 tragedy.
Call it tribal retribution, but whereas the country should have been united in its relief that the truth had been revealed after 23 years, partisanship was endorsed by some and snowballed. Suddenly a chant which did not make reference to Hillsborough was considered to be a Hillsborough chant.
Ahead of the 241st meeting between the teams, there is a level of calm after three tumultuous and emotive clashes in one year. With Robin van Persie and Luis Suárez, perhaps the two best players in the Premier League, the good should outweigh the bad this time.
Popular in the Community