Roman Abramovich is putting the wheels in motion to tempt Pep Guardiola to Chelsea, with reports this morning suggesting the oligarch will offer the former Barcelona coach an astonishing £18m a year.
Has Rafael Benítez really been that bad? Mr Interim will be exiting Stamford Bridge in the summer and the Express have capitalised on his latest 'crisis' at Chelsea to suggest Guarduiola could become the world's highest paid manager.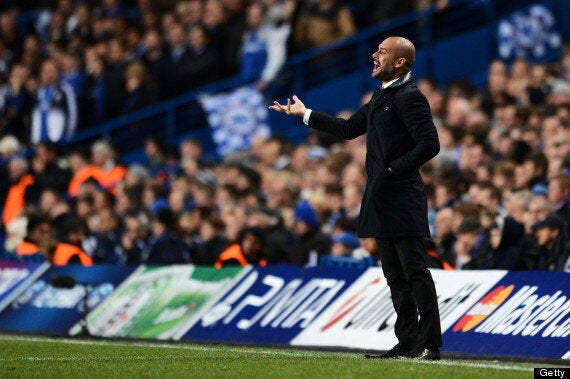 Guardiola's currently enjoying his year-long sabbatical after four fruitful but stressful seasons in charge of Barça, and has met Sir Alex Ferguson on foreign shores amid speculation this could be the Scot's final campaign with Manchester United after nearly 27 years.
Despite the likelihood of Abramovich throwing money like confetti at Guardiola, that ironically may backfire. Chelsea are mocked for their lack of history and hollowness which apparently means quite a lot to a romanticist like Pep. Should he reject Chelsea (again) Lord knows what the west London club's Plan B is. B for Benítez (full-time)?
Back to the business of the January transfer window, and Fabricio Coloccini has told Newcastle he wants to leave the club, according to the Indy. Ridiculously compared to Bobby Moore by rent-a-quote Alan Pardew earlier this season, the Argentinian has nevertheless been an excellent defender for the Magpies, recovering after his 2008-09 debut disaster. However he wants to return to Argentina.
Tired of Mario Balotelli? Who isn't? Even though Silvio Berlusconi labelled him a "rotten apple" Manchester City are hopeful AC Milan will take him off their hands this year, say the Mirror.
But the 22-year-old's agent Mino Raiola has said Berlusconi made a "big mistake" with his Balotelli-fruit analogy, write Sky Sports.
Wesley Sneijder's career regression was apparently close to winding up at Galatasaray this week but he is now hoping for a last-minute switch to the Premier League.
The Dutchman, perhaps still asking 'what if' following the collapse of his proposed move to Manchester United in 2011, has been told he will not play for Internazionale again as long as he is on his reported £200,000-a-week wages.
Emmanuel Adebayor has gone to Africa for the Cup of Nations so Tottenham have been linked with a striker. After coach André Villas-Boas admitted Leandro Damião would not be joining the club (yet?) the Mail have speculated Alvaro Negredo has been targeted. The 27-year-old is reportedly seeking a four-and-a-half-year deal and a weekly wage in excess of £70,000.