HMV's flagship London store famously played its part in helping The Beatles land their record deal.
In early February 1962 the group had been rejected by Decca Records after recording a 15-track demo for the label on New Year's Day.
One of the cited reasons was apparently that "guitar groups are on the way out", but it led the group's newly appointed manager Brian Epstein to insist they would one day "be bigger than Elvis Presley" at a subsequent meeting with label executives.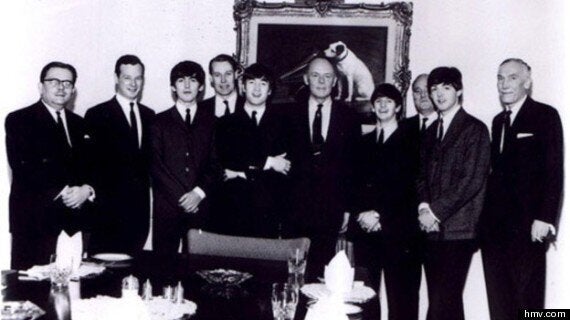 Brian Epstein took a Beatles tape into HMV Oxford Street in 1962. The manager liked it, and set up a meeting with EMI label boss at Abbey Road. And the rest, as they say, is history
Undeterred, Epstein continued to tout the group, now armed with his Decca tape, recorded after a draining ten-hour van journey to London, lengthened due to roadie Neil Aspinall getting lost.
It was Epstein's visit to the HMV shop in Oxford Street (a few hundred yards west of the present main store) which set their eventual deal in motion.
Epstein called in to see a friend he had made on a retail management course, who suggested his tapes should be transferred to discs - to make it easier to hawk the songs around.
The shop engineer was so impressed that he called down a music publisher from a top floor office of the building, and he in turn, made a call to the secretary of producer and Parlophone executive George Martin, now Sir George.
A few days later on February 13, Epstein visited the record label HQ within EMI's Manchester Square office in London, at which Sir George heard the disc and spotted some potential.
Three months later manager and exec met again and unusually a contract was drawn up before even meeting the band, apparently to make the process quicker if he gave a deal the go-ahead at a later audition.
When the eventual session at Abbey Road Studios took place, the band recorded four tracks - Besame Mucho and three original songs, PS I Love You, Ask Me Why and Love Me Do. The latter caught the ear of the engineer so much that he summoned the boss to sit in on the session.
Sir George eventually opted to sign them after deciding he had "nothing to lose", although the contract left them with a piffling royalty which was heavily weighted in favour of enriching the label rather than the band, which in later years left them embittered and much more protective of their output.
By September 4, they were back at Abbey Road to record their first single Love Me Do.