A 24-year-woman is in a serious condition after being gored by a rhino - moments after a game keeper reportedly told her to stand closer to the animal for a photograph.
Chantal Beyer was visiting South Africa's Aloe Ridge Hotel and Nature Reserve with her husband Sven Fouche when the attack took place.
According to The Beeld newspaper, Chantal was being photographed by game park owner Alex Richter, who suggested she stood "just a little bit closer".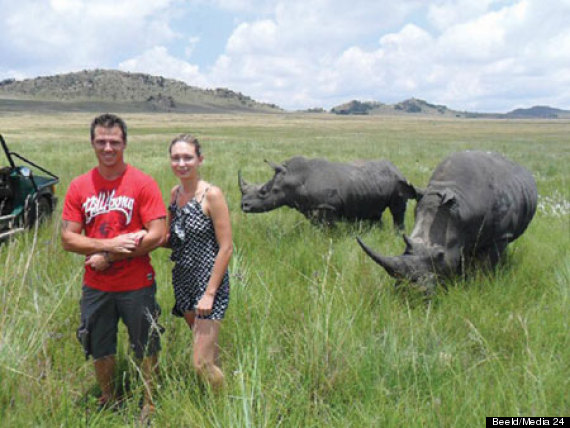 Chantal Beyer and her husband Sven Fouche, just moments before the incident
The rhino's horn penetrated her chest from behind, causing a collapsed lung and broken ribs.
Pictures taken moments before the attack show the student and her husband around two meters away from the pair of bull rhinos.
Chantal was rushed to Netcare Krugersdorp Hospital, where she remains in a stable condition.