Two students have been caught on CCTV in a passionate clinch at, ironically, Exeter University's Safer Sex Ball, sparking an investigation by officials.
The footage taken by cameras in the student union's Ram bar, which was then recorded on a mobile phone, has been circulating amongst students on the internet and via WhatsApp since the beginning of this year. According to national papers the pair were engaged in full penetrative poking, however student publications report "heavy petting and oral sex".
The explicit four minute video, which shows the naked couple in flagrante up against a partition, took place at the December event which is intended to promote safer sex.
Now, the university's students' guild is launching a full investigation as those responsible for distributing the video may have committed an illegal offence.
A spokesperson for the guild said: "The Students' Guild recognises that confidential CCTV footage has been filmed without our permission. The Guild is making sure the affected parties will be supported during this difficult time," the spokesman said.
"Measures were in place to provide high levels of security, but we are aware that irresponsible behaviour has taken place and we are working hard to rectify the situation. A full investigation is underway in which action proportionate to the seriousness of the situation will be taken."
A Devon and Cornwall Police data protection officer said: "This incident has not been reported to us at this time."
When asked if the event was illegal, they replied: "Yes, it's probably illegal as the CCTV is owned by the University.
"The CCTV distributed on the net falls outside the manner and the purpose for which it was recorded. The owner would not have consented to its release. If reported to us we would crime it, but it would be investigated by the information commissioner."
The police added the couple caught romping may have also committed an offence.
Student paper the Exeter Tab had been toying with the idea of sharing the raunchy video with its readers, even polling students on whether to publish - 83% said yes, if you're wondering. After taking legal advice, the Tab decided to keep schtum, adding: "The Guild needlessly spunked their cash on letters from lawyers, which we can't publish."
Students from previous Safer Sex Balls (no of whom were involved in the video):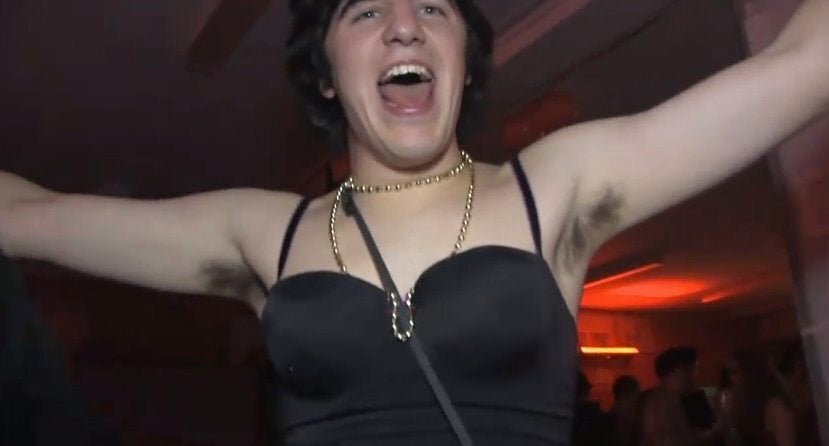 Exeter's Safer Sex Ball