Supermarket giant Tesco has placed full-page adverts in a number of national newspapers apologising to customers for selling beef burgers containing horse meat.
It has also promised to refund customers who bought the contaminated products, and said sorry for the "unacceptable" situation.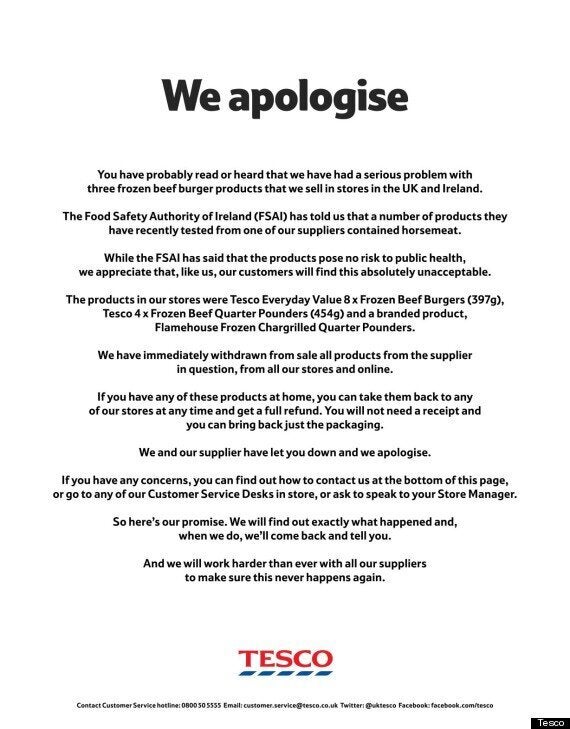 The Tesco apology printed in national newspapers
The UK's food watchdog, the Food Standards Agency (FSA), is also considering taking legal action against companies at the centre of the scandal.
Tesco promised refunds to customers who had bought the contaminated products, which it identified as Tesco Everyday Value 8 x Frozen Beef Burgers (397g), Tesco 4 x Frozen Beef Quarter Pounders (454g), and a branded product, Flamehouse Frozen Chargrilled Quarter Pounders.
In the advertisement, entitled "We apologise", Tesco says: "While the FSAI (Food Safety Authority of Ireland) has said that the products pose no risk to public health, we appreciate that, like us, our customers will find this absolutely unacceptable."
It continues: "We have immediately withdrawn from sale all products from the supplier in question, from all our stores and online... We and our supplier have let you down and we apologise."
The advert concludes: "So here's our promise. We will find out exactly what happened and, when we do, we'll come back and tell you.
"And we will work harder than ever with all our suppliers to make sure this never happens again."
The apology came as a reported £300 million was wiped off Tesco's stock market value.
The FSA said it would consult relevant local authorities and the Food Safety Authority of Ireland over whether to take action against any organisations embroiled in the controversy.
But the organisation was criticised for not carrying out tests in the past because horse meat posed no threat to public health, the Daily Telegraph said.
Tim Lang, a professor of food policy at City University in London told the newspaper: "It could have been going on for years but we wouldn't know about it because we have never conducted tests.
"For too long we have had light-touch regulation. The Food Standards Agency has to be institutionalised into taking a more critical approach. They have to work on the assumption that things could go wrong."
After a meeting with food industry representatives, the FSA said it would continue its review of the traceability of the food products identified in an FSAI survey, which uncovered the scandal.
It also said it would try to further understand how the lower levels of horse and pig meat contamination took place and help to carry out a UK-wide study of food authenticity in meat products.
The ABP Food Group, one of Europe's biggest suppliers and processors, is being investigated by health and agriculture authorities in the UK and Ireland over the controversy. An expert said the burgers may have had horsemeat 'for years'
Two of its subsidiaries, Silvercrest Foods in Ireland and Dalepak Hambleton in Yorkshire, supplied beef burgers with traces of equine DNA to supermarkets, including one product classed as 29% horse.
An ABP spokesman said: "It is vital that the integrity of the supply chain is assured and we are committed to restoring consumer confidence."
A third company, Liffey meats, based in Co Cavan, Ireland, was also found to be supplying products to supermarkets with traces of horse DNA.
Suppliers in the Netherlands and Spain have been identified as the possible sources for incorrectly labelled ingredients.
The results of the FSAI survey, verified in laboratories in Germany, showed low levels of horse in beef products sold in Tesco, Lidl, Aldi, Iceland and Dunnes Stores in Ireland.
Some burgers were also being sold in the UK but retailers insisted all suspect brands had been taken off the shelves within hours of the findings being released yesterday evening.
Prime Minister David Cameron said supermarkets had to take responsibility for what he said was an extremely disturbing case.
"This is a completely unacceptable state of affairs," he said.
"It is worth making the point that ultimately retailers have to be responsible for what they sell and where it has come from."
The FSAI analysed 27 beef burger products with best before dates from last June to March 2014 with 10 of the 27 products - 37% - testing positive for horse DNA and 85% testing positive for pig DNA.
Simon Coveney, Ireland's Agriculture and Food Minister, said the issue should not be seen in the same light as BSE or a dioxin scare in Irish pork meat from four years ago.
"There's no health issue here. But I'm not comfortable eating horse meat like lots of others," he said.
"But that's not the issue. The issue is if someone has consumed a burger and something was in that burger that they did not know about. There's no health risk with that."
Ten million burgers have been taken off shelves as a result of the scandal.