Liverpool striker Luis Suárez has admitted deliberately "falling" in an attempt to win a penalty against Stoke earlier this season.
However, he insisted the criticism he received for his controversial goal against Mansfield was unjust, and claimed foreigners - particularly South Americans - were treated differently to English players in the Barclays Premier League.
Not for the first time during his stint in England, Suárez came under fire after going down theatrically in the penalty area during October's goalless home draw against Stoke.
Although no spot-kick was given, Potters boss Tony Pulis called the Uruguay forward "an embarrassment" after the match. Jim Boyce, Britain's representative on FIFA, later described Suárez's dive as "nothing less than cheating", adding that simulation was a "cancer" in the game.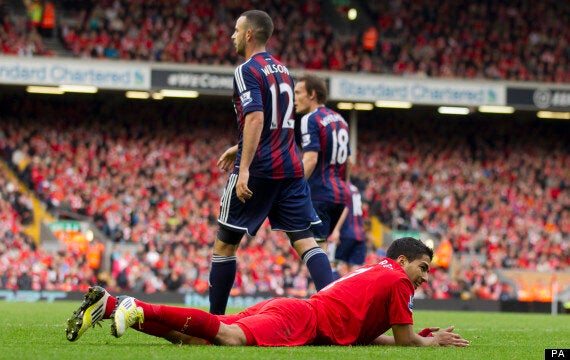 Suárez executed an infamous dive at Stoke
Suárez has now admitted "falling" in a bid to win a penalty, telling Fox Sports Argentina: "Football is like that. Sometimes you do things on the field that later you think 'why the hell did I do that?'
"I was accused of falling inside the box in a match, and it's true I did it that time, because we were drawing against Stoke at home and we needed anything to win it.
"But after that everybody jumped out to talk - the Stoke coach, and the Everton coach... I understood that the name Suárez sells (papers)."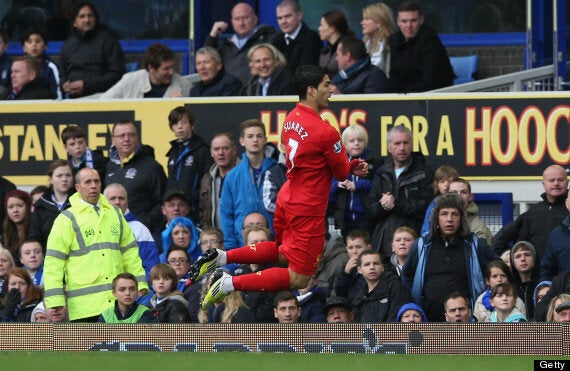 Suárez's 'sarcastic' diving celebration against Everton
Suárez was back in the spotlight recently following his winning goal against Mansfield in the FA Cup third round, with questions arising over whether the 25-year-old had deliberately handled the ball in the build-up or whether it was accidental.
He said: "The other day a ball hit my hand with no intention at all, and everybody criticised me because I kissed my wrist. Suárez sells.
"That's why they also talk about Suárez having a chat in secret with (Sebastian) Coatés in front of (Steven) Gerrard. They make up anything. Everybody should do what they have to do, to talk about football and not anything else."
Suárez also believes foreign players are treated differently in England.
He said: "It's tough. As Carlitos (Carlos Tévez) and Kun (Sergio Aguero) said, the foreigners, and even more the South Americans, receive different treatment than the local ones.
"It's a cultural thing. They have different behaviours. What we have to do is play football, do what we know, what we've always desired. We fought to be here, and suffered a lot to be here. We shouldn't listen to any nonsense they say now."
Meanwhile, Suárez insisted his conscience was "completely calm" following the race row with Manchester United's Patrice Evra, which saw the Uruguayan banned for eight games and fined £40,000, and reiterated his claim that the Red Devils controlled the media. Evra shook hands with Suárez at Old Trafford on Sunday
"If someone comes to me and insults me, saying I'm South American, I won't start to cry," he added. "It's something that happens on the field - football things. My conscience is completely calm.
"As I said, United handle the press here. They have a lot of power and they always help them. If I listen to what the people say, I wouldn't be here or play football. If I listen what one or another says, it's very tough.
"I don't forget that I have a family and a daughter, and, no matter what happens during the day, when I get home I have a huge happiness and nothing else matters."