Luis Suárez will be "dealt with internally" after admitting to diving, Liverpool manager Brendan Rodgers said.
Suárez told Fox Sports Argentina: "I was accused of falling inside the box in a match, and it's true I did it that time, because we were drawing against Stoke at home and we needed anything to win it."
Rodgers, unhappy at the admission, said: "I think it is wrong. It is unacceptable. I have spoken to Luis and it will be dealt with internally."
"[Diving] is not something we advocate. Our ethics are correct.
"He has been totally understanding on where I am coming from as manager of the club. What was said was wrong, he takes that and we move on."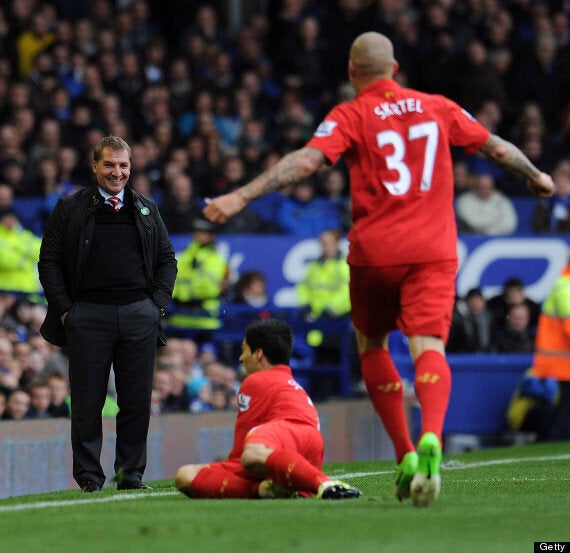 Rodgers chuckles at Suárez's 'sarcastic' diving celebration at Everton in October
Suárez has been the figure of much controversy since he joined Liverpool two years ago from Ajax.
Often accused, he served an eight-match suspension last season and was fined £40,000 after racially abusing Manchester United left-back Patrice Evra.
Suárez then refused to shake Evra's hand in the reverse fixture and was forced to apologise for his behaviour.
Two weeks ago he was accused of cheating against Mansfield Town in the FA Cup when he controlled the ball with his hand to score the tie's winning goal.
Liverpool's own protection of their striker has drawn criticism from several quarters. After Suárez's ban was announced, the squad donned T-shirts in support of Suárez while manager Kenny Dalglish's increasingly bizarre excuses for his behaviour exacerbated the club's image.
Before he arrived in England, Suárez has been involved in two separate incidents of notoriety in 2010 when, in Uruguay's quarter-final tie with Ghana, he stopped goal-bound effort on the line with his hand and was sent off.
Asamoah Gyan however failed to convert the penalty with the last kick in extra-time and Suárez was seen celebrating before heading down the tunnel. Uruguay defeated the Africans on penalties and Suárez was demonised on the continent.
In November that year he bit PSV Eindhoven's Otman Bakkal and was suspended for two games by Ajax but was unrepentant after the match.
"No, I do not regret what happened. Normally I always keep calm but I didn't ... I'm a little tired. This week I had to travel a lot," he said at the time.
Related