The hostage crisis in Algeria is still not over, the Foreign Office has confirmed, with Britain is braced for news of more casualties amid confusion over the death toll after a military rescue bid.
Prime Minister David Cameron warned of "further bad news" as he put off a highly-anticipated speech on Britain's future in Europe to stay in London and oversee developments. A man reads a newspaper headlining "Terrorist attack and kidnapping in In Amenas", at a news stand in Algiers
One report on Algerian state television said two British workers were among four foreigners killed at the remote desert gas plant at In Amenas, which is jointly operated by BP.
Two Scots are reportedly among four hostages freed during an attack by the Algerian army on militants as they drove away from the plant yesterday, the Algerian Press Service said.
Cameron will chair a meeting of the Cobra emergency committee on Thursday morning as efforts continue to establish the full scale of the bloodshed.
A Foreign Office spokesman said on Friday morning: "The terrorist incident in Algeria remains ongoing. The Prime Minister spoke twice to his Algerian counterpart, prime minister Abdelmalek Sellal, on Thursday.
"He chaired Cobra twice on Thursday, and will chair another meeting on Friday morning; Cobra will continue to meet as long as the crisis lasts.
"As the Prime Minister and Foreign Secretary have said, to the best of our knowledge on the information given to us by the Algerian government, one British national has sadly been killed.
"We are not in a position to give further information at this time. But the Prime Minister has advised we should be prepared for bad news.
"Our priority will remain the safety of British nationals and their co-workers.
"We cannot provide any details that might endanger their lives. But we are working round-the-clock to resolve this crisis."
Foreign Secretary William Hague has cut short a visit to Australia to return to the UK and there is expected to be a ministerial statement to the Commons.
The Algerian rescue effort was launched early Thursday morning without consultation with the UK, to the dismay of Number 10.
Cameron was informed that it was under way when he telephoned his Algerian counterpart yesterday morning despite having earlier asked to be kept fully updated.
Offers of British help had been declined.
Algerian communications minister Mohamed Said Belaid said the military operation succeeded in "neutralising a large number of terrorists and freeing a large number of hostages".
"But unfortunately, we are sorry to say, there were some deaths and injuries," he said.
"We do not yet have a definitive figure. As soon as we have it, we will make it public."
One British citizen had already been confirmed dead earlier in the hostage incident in which several others are known to be caught up.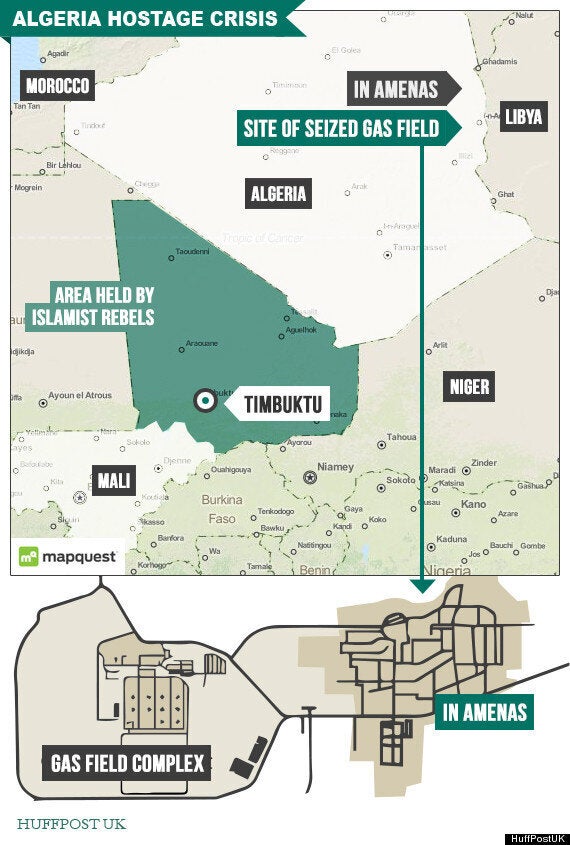 Cameron cancelled his long-awaited Europe speech which he had been due to deliver in the Netherlands Friday after a second call to Algerian premier Abdelmalek Sellal.
Downing Street said he "emphasised the continuing need for the Algerian security forces to do everything they could to safeguard hostages".
Speaking afterwards he said: "We should be prepared for the possibility of further bad news, very difficult news, in this extremely difficult situation."
Officials would continue "working around the clock to do everything we can to keep in contact with the families, to build the fullest possible picture of the information and the intelligence".
"I will do everything I can to update people about what is a difficult and dangerous and potentially very bad situation," he added.
The militant group believed to have carried out the raid on the gas plant says it was retaliation for French military intervention against al Qaida-backed rebels in neighbouring Mali.
The drama began Wednesday morning when heavily-armed militants launched a dawn raid, killing two people and injuring six others.
They claimed to have seized 41 foreign workers including Britons, Americans, Norwegians and Japanese.
A spokesman for the militants claimed that 35 hostages and 15 rebels had been killed when Algerian helicopters strafed the site in today's operation.
The militants - reportedly led by the veteran jihadist Mokhtar Belmokhtar - threatened previously to "eliminate" the hostages if they were attacked.
The Irish government said that one of its nationals had been freed.
Father-of-two Stephen McFaul, 36, from west Belfast, made contact with his wife Angela to say he was safe and well. Amenas Gas Field in Algeria, which is jointly operated by BP and Norway's Statoil and Algeria's Sonatrach.
His 13-year-old son Dylan choked back tears as he declared he would give the electrician a "big hug" as soon as he sees him and never let him go overseas again.
Shadow foreign secretary Douglas Alexander said: "Latest reports of the grave and tragic events unfolding on the ground in Algeria are deeply concerning.
"The priority must be the resolution of the crisis and the safety of the hostages and we offer the Government our support in their efforts to achieve this."
Foreign Office Minister Alistair Burt said: "Although details have yet to become final, I am afraid we should be under no illusion that there will be some bad and distressing news to follow from this terrorist attack.
"You will appreciate that there is a limit to what I can say at present given ongoing security issues. All our thoughts should be with those who have been caught up in this tragedy and particularly with the families who have already suffered so much distress."
Related