At least 10 British citizens are understood to be among 60 foreign hostages still "at risk" as an Algerian mission to rescue hostages from a remote desert gas facility continues.
The Islamist militants say they will release two US nationals currently held hostage in exchange for the release of Omar Abdel Rahman, 1993 World Trade Center bombing mastermind, and Aafia Siddiqui, Pakistani neuroscientist serving sentence for attempted murder, who are both are in US prisons. It is not possible to verify the authenticity of this demand.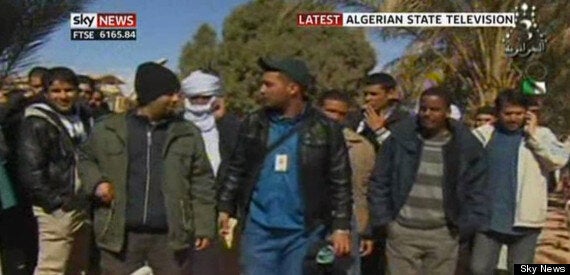 Algerian hostages, pictured here on Sky News, as they leave the gas field after being freed
According to Algerian newspaper Al Watan, security services in the country have captured one of the kidnappers alive, and he revealed he belonged to a group commanded by Mokhtar Belmokhtar's group, and was one of 32 militants who attacked the In Amenas facility.
The Foreign Office has sent a plane carrying consular crisis staff to within 280 miles of the facility amid continued efforts by joint operator BP and the Government to evacuate UK workers.
Algerian authorities said a "large number" of hostages had been freed as a result of Thursday's military fight back but there had also been an unspecified number of deaths.
It was reported that two UK workers were among the casualties, which would bring the British death toll to three after one was killed in Wednesday's initial raid by Islamist militants.
Nearly 100 out of 132 foreign hostages have been freed, the Algerian state news service says. But dozens are still missing.
The foreign hostages are from eight different countries and many Algerians are still held captive.
Two unnamed British men who were said to have been in the compound during the siege have given interviews on Algerian television about their experience.
"I think they did a fantastic job," one man said. "I was very impressed with the Algerian army.
"It was a very exciting episode. I feel sorry for anybody who has been hurt but, other than that, I enjoyed it."
A second man said: "The gendarmes did a fantastic job. They kept us all nice and safe and fought off the bad guys.
"I never really felt in any danger, to be honest."
State news is reporting that negotiations with the militants have resumed and 60 foreign workers remain unaccounted for.
There are also reports from a Mauritanian news site that the militants are demanding the release of two terror figures in US jail, including 1993 World Trade Centre bombing mastermind Omar Abdel Rahman, in return for the release of two US captives.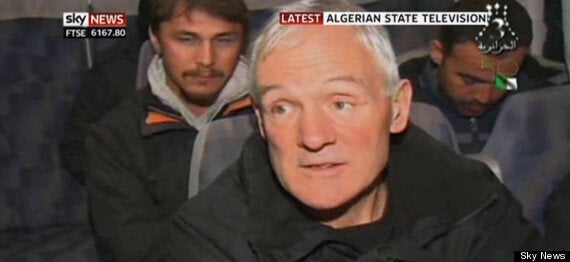 Both Algerian and European hostages have been freed from the gas field
Cameron is meeting US defence secretary Leon Panetta, who was already in London on other business, in Downing Street this afternoon for talks about the crisis.
Afterwards he will be chairing another meeting of the Government's emergency committee Cobra.
Cameron, who cancelled a trip to the Netherlands to make his long-awaited speech on the EU so he could remain in the UK to oversee the crisis, gave an update to MPs in the Commons.
"This is a large and complex site and they are still pursuing terrorists and possibly some of the hostages in other areas of the site," he said, despite earlier reports that the mission had ended.
"The Algerian prime minister has just told me this morning that they are now looking at all possible routes to resolving this crisis."
The number of British citizens believed killed, injured or missing had been "quite significantly reduced" since reports that they numbered around 30.
Other reports put the number at 10 and it is believed that is much closer to the true picture but fuller details are being held back for fear of aiding the terrorists.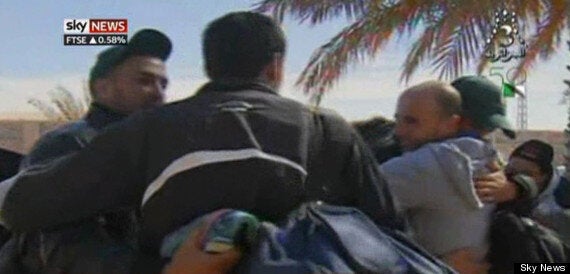 Former hostages embrace as they leave the compound
Cameron was told of the military raid only after it was under way when he telephoned Algerian prime minister Abdelmalek Sellal yesterday morning.- to the dismay of No 10.
He told MPs that he would not hide the fact that he was "disappointed not to be informed in advance" and that the UK had offered to help "in any way we can".
Such offers have been declined by Algiers.
Cameron, who has telephoned his opposite number four times including shortly before his Commons appearance, said contacts were "good".
"I won't hide, of course, we were disappointed not to be informed of the assault in advance and we do want to help in any way we can with technical help and assistance.
"I think we should show understanding the Algerian government faces a huge threat from Islamist terrorists and they were facing the situation where there was imminent threat to life and we should bear that in mind."
BP, the joint operator of the gas plant, has begun evacuating staff from Algeria, with 11 being flown back to London yesterday.
The Government is providing a back-up service to fill any "gaps in what BP are able to do" and all installations in Algeria have been placed on "high alert".
Panetta said there was "no justification for the kidnapping and murder of innocent people" and vowed the US government was "working around the clock to ensure the safe return of our citizens".