The family of a man who was filmed being shot dead outside a nightclub has slammed a website which continues to host the footage as "disgusting".
The video of Andre Lowe being shot and killed outside the Empire nightclub in Hollywood on Sunday continues to feature on celebrity gossip portal TMZ.
The channel claims its own photographer captured the incident, which unfolded during a mass brawl outside the club.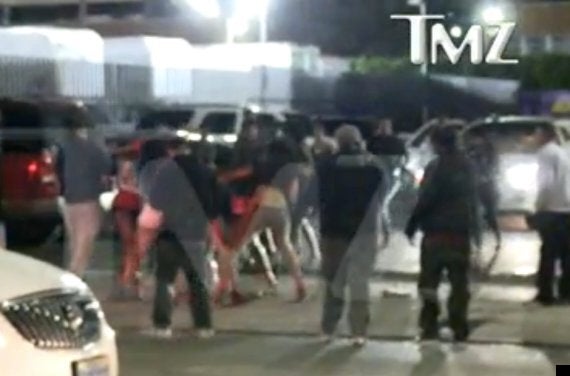 The brawl unfolds outside the Empire Nightclub in Hollywood on Sunday morning
Handbags and shoes are strewn across the ground as scuffles break out. Then gunshots are heard and a man's body is seen sprawling.
Now a man claiming to be Lowe's uncle has launched a petition on Change.org calling for TMZ to take down the footage.
TMZ has thoughtlessly and carelessly posted a video of my nephew, Andre Lowe, being shot to death outside a Hollywood nightclub. These people have no regard for the loved ones affected by this tragedy. I understand freedom of press but the line has to be drawn somewhere. Its very obvious that the media has no morals and nothing is off limits when it comes to gaining ratings. What they did is wrong and they need to be held accountable. No one wants to see their loved one in this position, having this event viewed by millions of strangers is disgusting. This video needs to be removed and an apology issued to the family and friends.
The petition so far has around 1,500 signatures, and further comments have been left by family members and supporters promising to boycott the site until the footage is removed.
Eyewitness Jeffrey Valera told the channel: "Basically, the club was shutting down. We were on our way out. A couple girls got into a scuffle. A couple guys tried to get involved to break it up and while that was going on I guess the guys got a little heated.
"Heard a few threatening statements, heard a few slurs and after that I heard a few terms that mean gun and about five seconds later, some gunshots happened. Three, four or five gunshots."
Huffington Post UK has sought comment from TMZ and is not linking to the site while it continues to host the footage on its home page.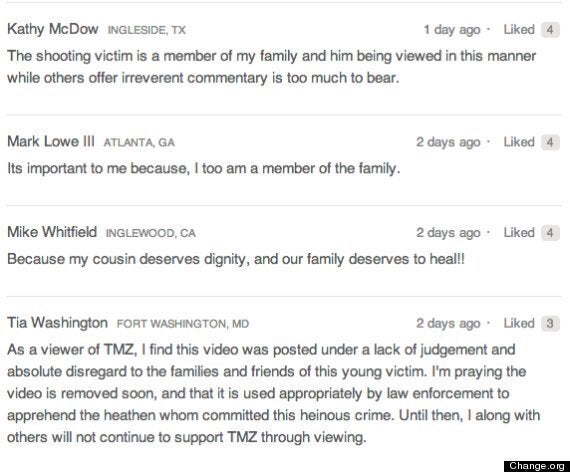 Comments left on the petition
Popular in the Community