Travellers across Britain were hit by chaos on roads, train lines and airports as snow disrupted major transport routes.
As the snow hit London and south east England, Heathrows runways had to be closed temporarily at separate times for de-icing and snow clearance. The airport saw at least 240 flights cancelled on Friday, with the bad weather also affecting local airports around the country.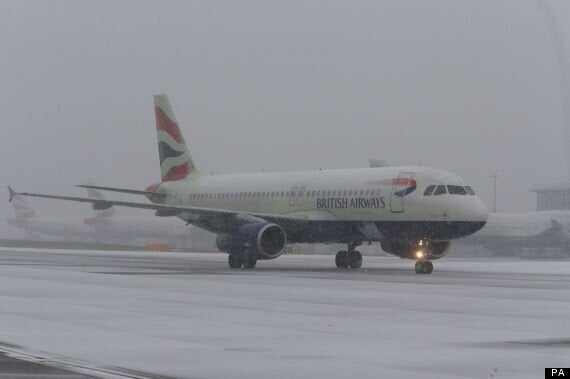 A plane sits on the runway at Heathrow airport, as snow shut roads and disrupted train travel today across the UK.
At Gatwick, the single runway remained open and the only cancelled flights at the West Sussex airport today were ones to and from the Channel Islands.
Southampton airport said there would be no flights before 5pm at the earliest. Flights remained suspended at Birmingham Airport, with snow still falling.
Bristol airport said its runway was clear and flights were departing. But it warned passengers to expect delays and cancellations.
Channel Tunnel rail firm Eurostar axed four services between London and Brussels, and there were amended services on a number of domestic routes.
Southern, Greater Anglia, South West Trains and the Eurostar have been running amended services on a number of routes or with speed restrictions because of the snow.
Gritters have been out in force, and the Highways Agency has issued an amber alert, advising motorists to take extra care and check weather forecasts before they travel.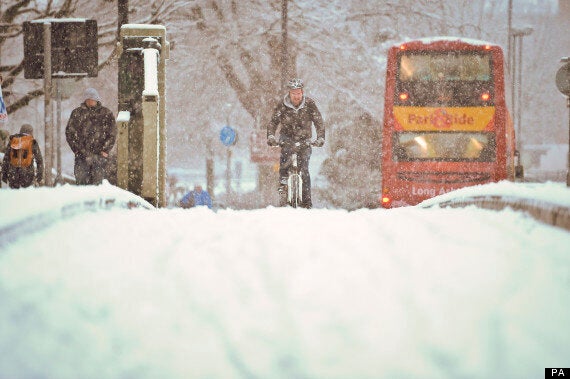 A cyclist uses a snow covered cycle path in Bristol, as snow shut roads
Weather experts warned it would be "bitterly cold" in England today, with temperatures likely to remain below zero. Most of the UK is likely to be covered with between five and 10cm of snow.
The Met Office has issued a "red" severe weather warning for heavy snow in upland parts of south east Wales, which is set to experience the worst of the weather.
Drifting snow of up to 12in (30cm) is likely to cause severe disruption, the Met Office said, and warned people to avoid all but essential journeys.
Amber alerts were in place for the Midlands, London and the South, the east of England, the South West, the North West and Northern Ireland.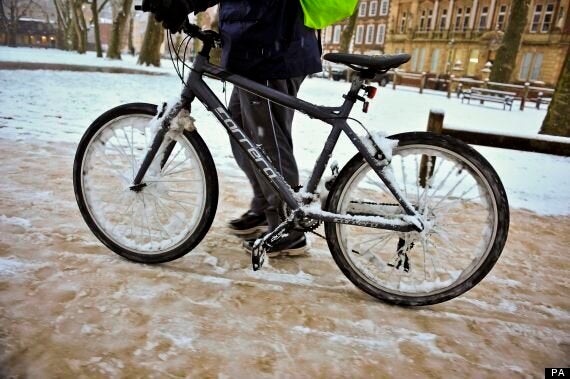 A cyclist decides it is safer to walk as he walks through snow and ice in Bristol
Gemma Plumb, a forecaster for MeteoGroup, the weather division of the Press Association, said snow had been coming in "from all directions" overnight.
"We have had heavy snow showers in Suffolk, Essex, Norfolk and much of the east coast, where we have had reports of 3cm-4cm falling," she said.
"A band of more persistent and heavy snow has moved up from the South West, across South West England, central and southern parts of Wales and central and southern England.
"The winds in the South West and Wales are strong, meaning there are blizzard conditions there.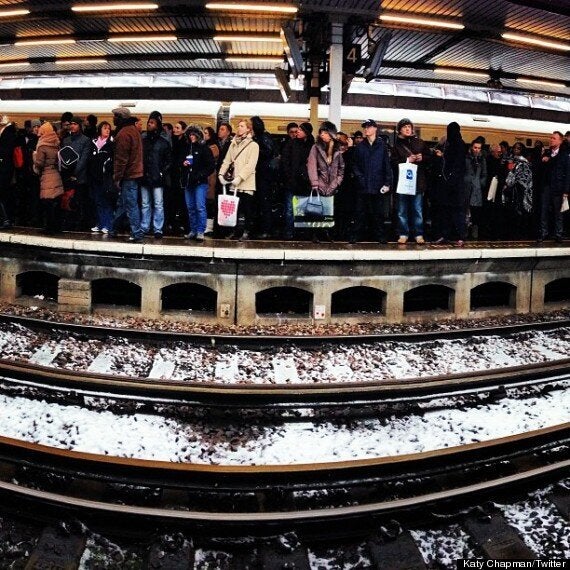 Commuters struggle to get home at London Bridge
The snow is expected to ease off later in the day, remaining largely in eastern areas, and in Devon and Cornwall it will turn to sleet and rain.
But it is likely to stay very cold over the weekend, with more snow likely.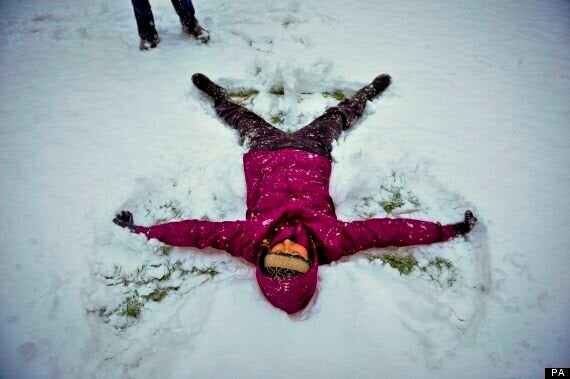 A woman makes a snow-angel in the snow in Bristol
Both Green Flag and the AA reported a lower-than-normal number of morning breakdowns, with many people staying at home.
But as the snow reached the Home Counties, the number of calls for assistance increased.
By around 2pm, the AA said it had dealt with about 6,800 breakdowns - or around 900 an hour.
The busiest areas were the south coast, parts of south west England, the Midlands and London.
By the end of the day, the AA expected to attend around 11,000 call-outs, compared with around 9,500 on an average Friday.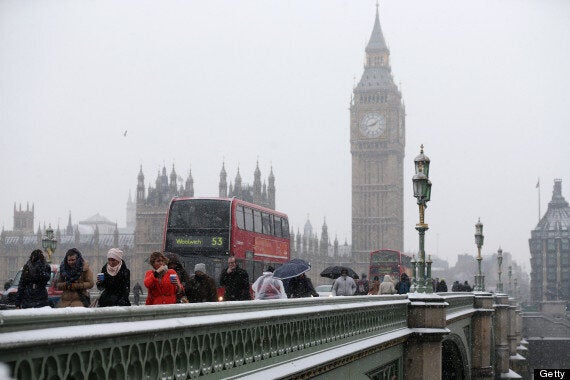 Members of the public walk across Westminster Bridge as snow falls on January 18, 2013 in London
Darron Burness, the AA's head of special operations, said: "After such a busy week, today's been a 'snow day' for millions with far fewer breakdowns.
"However, there's been a big impact on the roads as the snow fell so heavily with traffic crawling on many routes and we've had reports of journeys taking three or four times longer than usual.
"With the snow compacting down and turning icy, we're likely to see treacherous driving conditions this evening and throughout the weekend. Any fresh snow on top will just add to the problems. Shoppers walk in the high street after heavy snowfall in Guisborough
On the Tube, there were severe delays on the Metropolitan line between Harrow-on-the-Hill in north west London and Aldgate in the City of London.
There was no service anti-clockwise on the Circle line due to an earlier faulty train at South Kensington in west London.