Heavy snow has brought widespread chaos across Wales.
More than 1,200 schools have closed, 10,000 people are without electricity and transport is being disrupted.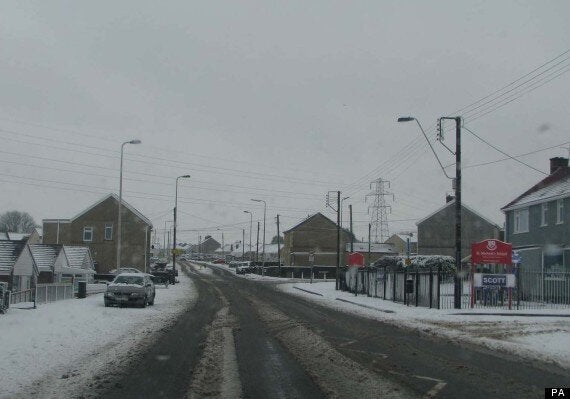 Footprints in the snow covered streets of Llanelli, Wales
Problems surfaced yesterday after the Met Office issued a "rare" red warning of snow for the south-eastern side of the Brecon Beacons and Black Mountains - and warned that all non-essential travel should be avoided.
This morning large swathes of the principality woke up to find a dusting of snow outside.
But while many children rejoiced at getting a day off school, the day began with a travel problems for adults.
The M4 was initially closed by police in both directions between junctions 36 and 37 at Bridgend - resulting in bumper-to-bumper traffic as motorists tried in vain to steer clear of the area.
Even when the motorway reopened, traffic was still moving slowly due to lane closures.
Meanwhile, all schools in Neath Port Talbot were closed and the majority in Swansea and Torfaen were shut.
The closures meant that some sixth form and college students had their A-level exams postponed.
The snow also hit flights at Cardiff International Airport and cases at Cardiff Crown Court were adjourned for the day.
Some people in South Wales who may have relished the prospect of a duvet day were also in for disappointment when a power cut left thousands of householders without electricity.
Western Power said it was working to resolve the problem and asked customers to call its emergency line on 0800 052 0400 if they are in difficulties.
Spokesman Phil Davies said: "The advice is to sit tight. If you are in any difficulty, ring our emergency line. We will provide as much help as we can.
"If anybody has a particular difficulty we will do our utmost to get to them and get them back on supply."