Britain faces the risk of flooding as the recent spell of snow and cold weather comes to an end this weekend.
After lighter flurries today, more snow is forecast to fall in the north on Friday evening and into Saturday before milder air comes in and lifts temperatures to a high of around 10C (50F) on Sunday, according to Meteogroup, the weather division of the Press Association.
Rain crossing the south west on Friday, coupled with melting snow could potentially cause minor localised flooding in the area, the Environment Agency said.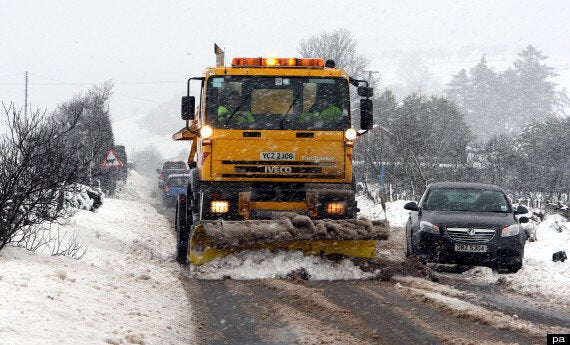 A gritter clears the road
The milder weather will continue into next week, bringing wet weather and a risk of further flooding to other parts of the UK.
It brought advice from the Environment Agency that people should keep building snowmen, as the compacted structures stay cold for longer and could help regulate the flow of water.
Roy Stokes, from the Agency, was reported as saying: "Ideally, if everybody built themselves a snowman that will slow the thaw down a bit.
"If you notice, when people clear their drive the snow thaws away but the compacted piles stay which will give a balanced thaw, which would be helpful."
A spokeswoman later said that building a snowman would have a limited impact on the rate of thawing.
"When snow is compacted, as it is when you build a snowman or drive over it in a car park for example, it melts at a slower rate," she said.
"But while building snowmen is great fun, sadly it is unlikely to make a significant difference to the overall rate at which the snow melts across the country and won't protect your home from flooding."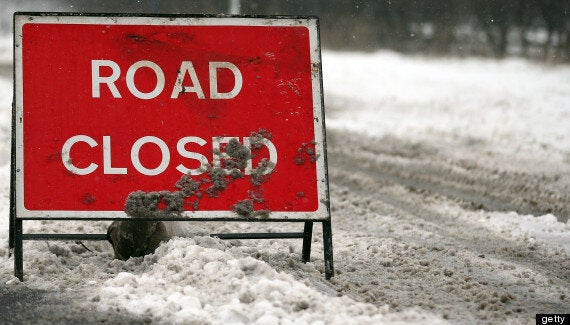 Melting snow could cause transport problems
Snow continued to fall today, with the heaviest falls in south and west Wales and south west England, Meteogroup said.
Many areas saw the mercury struggle to get above zero, particularly in northern England and Scotland.
London managed a high of 3C (37F), while the warmest place was the Isles of Scilly, which managed 8C (46F).
The wintry weather has been blamed for at least nine deaths and has caused widespread disruption.
In Somerset, gritter crews have been working around the clock after nearly 15cm of snow fell in 24 hours.
In the worst incident, 30 people had to spend the night in a shelter after becoming stranded when the A39 between Bridgwater and Williton became impassable at around 1am this morning.
Severe weather has also forced the closure of hundreds of schools across Wales for a second day running.
Southeastern Trains has cancelled a number of early morning trains tomorrow in order to use the carriages on other services. It said Network Rail had asked it to run some of the early morning services with more carriages, because it makes the trains less likely to be affected by icy rails.
The Kent, Surrey & Sussex Air Ambulance revealed today that it had flown an 18-year-old man to hospital in London after a sledge accident.
He was flown to St George's Hospital after suffering head injuries in an accident in Caterham, Surrey.
The AA said today it had attended more than 160,000 breakdowns since January 11, including around 2,200 vehicles stuck in snow or ice.
More snow is forecast to fall on Friday night, with southern Scotland and northern England, including the Pennines, expected to receive a further 10cm (3.8in).
But Sunday will see temperatures rise into positive figures, with up to 10C possible in the south west, and with it a rapid thaw.
Meteogroup forecaster Paul Mott said: "That will bring with it the increased risk of flooding, with the snow rapidly thawing from Sunday and further rain forecast for the north and west of the UK."