Harry Redknapp has compared negotiating during the transfer window to "gang warfare" and likened agents' dealings to Glasgow's infamous "Ice Cream Wars".
Redknapp has been largely frustrated in his bid to sign new players this month, with Tal Ben-Haim and Loïc Rémy the only two fresh faces to arrive at Loftus Road.
Although Redknapp pipped Newcastle to the signing of Rémy, he sounded pessimistic about the prospect of signing targets Rolando, Peter Odemwingie, Etienne Capoue and Mohamed Diamé before Thursday's 11pm deadline.
Redknapp insisted football agents are chiefly responsible for thwarting his attempts to stregthen the Rs.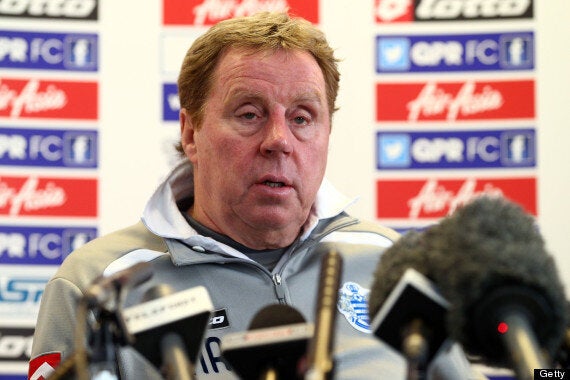 Redknapp took exception to 'wheeling and dealing' once
"This transfer window, I have never seen anything like it. Every agent seems to be trying to screw each other," Redknapp said at his a press conference ahead of tonight's game against Manchester City.
"It's like gang warfare out there - it's scary. If you're trying to get a player another agent will try to scupper that deal if he's not involved in it to try to get you to have one of his.
"It's unreal, unbelievable. They're all fighting for big money - that's the problem."
Redknapp went to France to speak to Rémy and Yann M'Vila and also travelled to Porto in a bid to persuade Rolando to join his quest to keep QPR in the Premier League. However he has refused to get involved with agents anymore.
There was a big smile across his face when he compared the situation to the so-called Ice Cream Wars - a deadly 1980s turf war that broke out between rival gangs in Glasgow who used to sell drugs and stolen goods from inside ice cream vans.
"It's a bit like ice-cream sellers in Glasgow," said Redknapp, speaking of the 1980s conflict which cost six lives.
"If someone has nicked their pitch, someone's gonna' shoot them or something!
"It's not just the person who deals with the players, it's dealing with the person who controls the player, who wants to be in on the deal as well," Redknapp added.
"I have left it to the chairman, it was doing my head in. It's crazy.
"I signed Tony Pulis one night at Newport. I turned up to watch him three hours drive, I got there and he wasn't even playing. He was sitting having a cup of tea in a little hut ten minutes before kick-off. He didn't have an agent. I took him on a free transfer."
M'Vila, the France international midfielder, had been coveted by several Premier League teams, but opted to move to Russia, where huge wages are on offer. M'Vila was also wanted by Fulham and Everton
"It was money in the end, that was the key for him," Redknapp explained.
"I think this would have been the best move for him - to come and play in the Premier League.
"He was up for coming here and it looked like we had him, but they [Rubin Kazan] came in late and blew us out of the water with the money they offered him.
"It's a shame because he's a good player. He's only 22."
Popular in the Community