David Beckham's move to PSG has not seen the French be so dazzled by a Brit since Oscar Wilde resided in the capital.
Whereas Bradley Wiggins is known as 'Le gentleman' in France, Beckham has been anointed the Spice Boy nickname by some members of the press, which was reserved for Liverpool's flash but fruitless 90s stars.
Here's what the papers à travers la Chaîne have to say about the arrival of England's most capped outfield international.
L'EQUIPE:A NICE SHOW BECKHAM
"The glamorous icon of football, aged 37, has signed for five months with Paris Saint Germain. This transfer, negotiated in the greatest secrecy after one previous failure, has put Ligue 1 under the spotlight. With the arrival of Beckham, Paris struck a great blow. From a media point of view, this transfer is in line with that of Zlatan Ibrahimovic, Thiago Silva, Ezequiel Lavezzi and more recently Lucas Moura."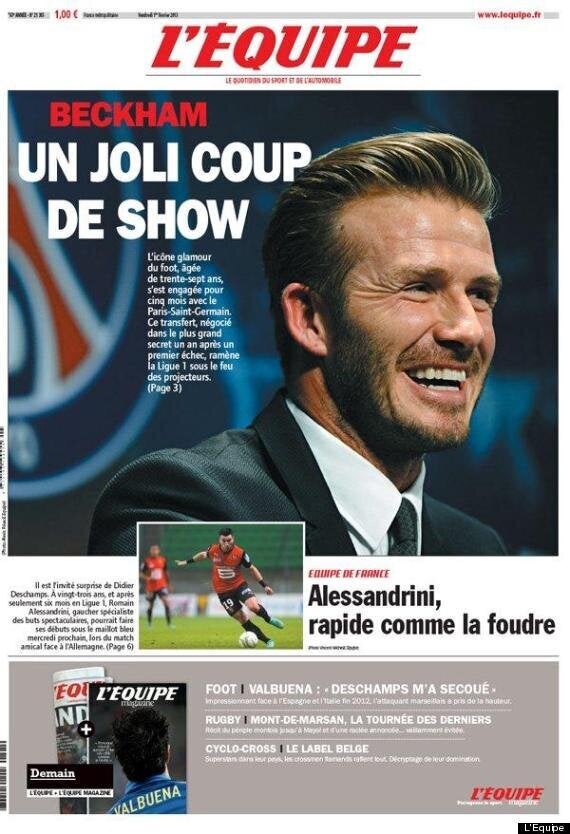 LE PARISIEN: ICON DAVID BECKHAM ARRIVES IN PARIS
"The British star has signed for five months with PSG. This signature definitely takes the Parisian club into another dimension. Zlatan is not alone. David Beckham, the world's best-known footballer and an international icon, has joined PSG."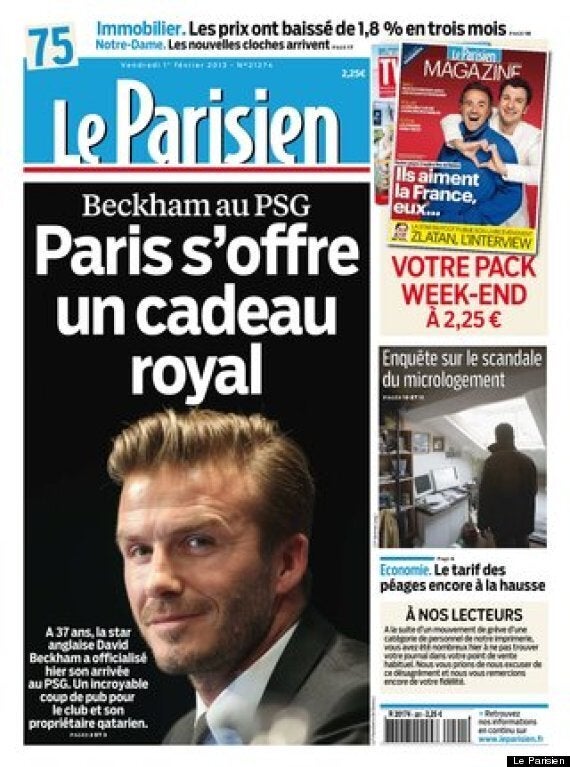 LE FIGARO: BECKHAM, A GOOD DEAL?
"The arrival of David Beckham at PSG raises the question of competitiveness. For the Spice Boy arrives with a more ambassadorial status and flagship Qatari ambitions rather than at player level. This is the last stage of the project of PSG's squad formation. It will have a huge impact in terms of image and income. Beckham is glamorous in glory and beauty. Merchandising are rubbing their hands already. The arrival of this iconic global advertising will put the spotlight on Ligue 1 and the coming of the Spice Boy will indeed attract markets hitherto little explored, like Asia."
LE MONDE: DAVID BECKHAM - ENGLISH FOOTBALLER, GLOBAL BRAND
"Fame made him lose his name. On billboards, in conversation or in print advertising, it's just David. More than a star shining and dazzling football, David Beckham is a social phenomenon in the United Kingdom. The former Manchester United, Real and Los Angeles Galaxy midfielder is primarily a footballer extraordinaire. The former captain of the England team has an extraordinary understanding of space and distribution in the game, a brilliant technique and excels in the art of the long cross. 'Becks' has an exceptional personality: Best, less alcohol, the genius of Gascoigne, kindness and more, and the iron determination of Keegan, but warmer. But the personality of David the Magnificent far transcends his talent."