David Cameron has joked that in contrast to the perhaps more noble ambitions youngsters in poverty stricken west Africa, British children simply want to become famous.
The prime minister is in Liberia to attend a UN meeting as part of a mini-tour of Africa that took in Algeria as well as a surprise visit to Libya.
During a visit to a school with the Liberian president on Friday, Cameron asked children what they would do if they were in charge.
One child replied: "Open a library."
A clearly impressed Cameron joked: "If you ask children in the UK, all they want to be is pop stars and footballers."
Cameron used his visit to call for the next wave of international development targets to focus on extreme poverty.
"Liberia is a country that was absolutely devastated by conflict and civil war," he said. "It is now recovering but there is still desperate poverty.
"I think it is very important we keep a focus on eradicating extreme poverty. Here in Liberia, one in 10 children do not make it to the age of five.
"But I also think it is important we look at those things that keep countries poor. Conflict, corruption, lack of justice, lack of the rule of law. These things matter as well as money."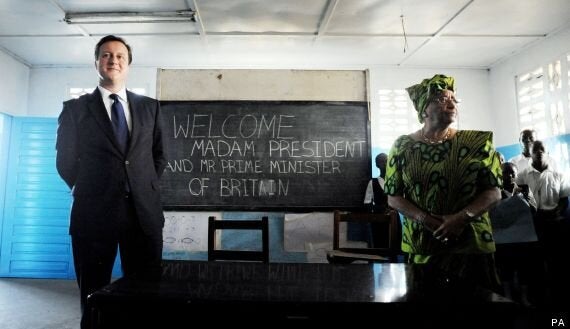 The coalition has committed itself to raise spending on development aid to 0.7% of UK GDP - a targe that irritates many Conservative MPs who want to see the money spent elsewhere.
Cameron has strongly defended the aid spending despite the austerity being imposed to balance the country's books.
However, the Government has yet to fulfil its commitment to enshrine the GDP ratio in law.
The next round of development goals are due to run from 2015 to 2030. Cameron favours targets that focus on eradicating absolute poverty over the period.
Here are some pop stars British children may want to be: