A 20-year-old Victoria's Secret shop worker was left disfigured after a masked attacker hurled acid into her face.
Naomi Oni was walking back to her home in Dagenham when she attacked just after midnight on December 30. She managed to reach her house where an ambulance was called.
Oni has spent the last month receiving skin grafts and nearly went blind after the attack, which left her with serious burns on her head, neck, arms, legs and body.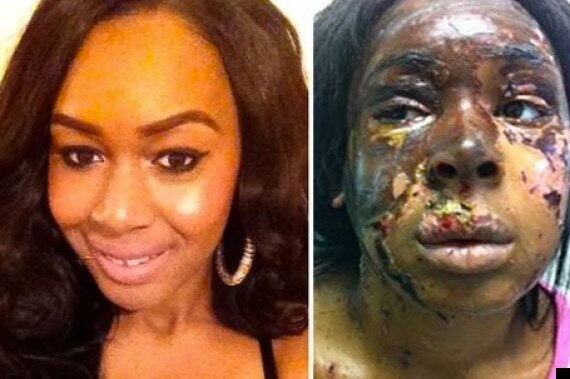 Naomi Oni has been receiving treatment for her burns since the attack in December
She has now released the images in a bid to trace her attacker, who fled from the scene.
She said: "I look in the mirror and it just isn't me. I'll never look the same again. I've always been outgoing and confident in my job and in my personal life, used to getting attention for the way I dress or my hair, but now I don't want anyone looking at me."
No arrests have been made and officers from Barking and Dagenham CID are continuing to retain an open mind as to the motive of the attack.
Anyone with information are asked to call Barking and Dagenham CID on 0203 276 1058 or 07500 108 529.
To remain anonymous call Crimestoppers on 0800 555 111.