Russell Brand and Jonathan Ross have told of their regret and embarrassment about sparking the 'Sachsgate' scandal which engulfed the BBC, as they discussed the incident together on TV for the first time.
Brand said he was wrapped up in the comedy value of their stunt and lost perspective of "reality" when they left near-the-knuckle messages during a prank call to actor Andrew Sachs which caused outrage in October 2008.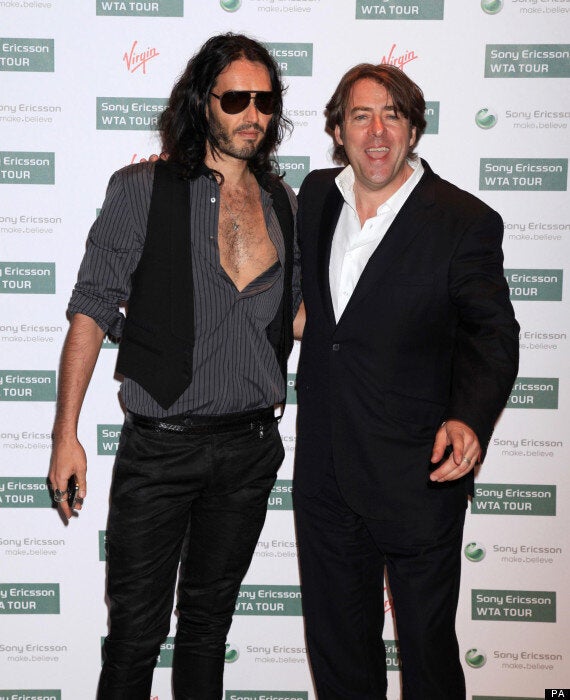 Russell Brand and Jonathan Ross have opened up about the effects of the 'Sachsgate' scandal
The pair reflected on their behaviour and told how it brought them close as friends, as Brand appeared on an edition of 'The Jonathan Ross Show' to be screened on ITV on Saturday.
They caused a furore in 2008 when they left smutty messages on veteran actor Andrews Sachs's answerphone during a pre-recorded Radio 2 show. It led to the departure of the station controller and both Brand and Ross left the BBC as a result of the fallout.
Speaking during the recording of his chat show, Ross said: "Let's deal with this, because we're both keen to put this behind us. People, I think are perhaps curious as to how we felt about it afterwards. We did both regret the furore that we caused, and also the hurt it may have caused Mr Sachs and his family."
Brand added: "Obviously we regretted it because it became difficult to distinguish the media phenomena from the obvious impolite act.
"I consider myself quite a polite person, right, but sometimes you get excited when you're doing a joke. You know when David Attenborough, he was saying when the camera men are filming an animal and they sort of think 'this is brilliant' and they forget it's actual reality - I sometimes think like that with comedy.
"I'm doing the joke, and I think 'this is brilliant, this is brilliant' and then you sort of realise, 'oh that's reality with real consequences'. I went 'oh it's only a joke' - I didn't realise that we were part of the frequency of reality."
Brand is launching a Comic Relief concert to be staged at Wembley Arena on March 6, featuring a line-up of friends which he has helped to assemble such as Noel Gallagher, Kasabian and Eddie Izzard. Brand will host the show, called Give It Up For Comic Relief, to raise money and awareness for people with drug and alcohol problems.
Former heroin addict Brand told Ross that the death of his friend singer Amy Winehouse had made him realise he needed to help people. "I'd occasionally chat to her a little bit but you know what it's like if you know someone that's got a drug and alcohol problem, it's really hard if they're not ready to help them along. When she died it made me feel like 'you've got to do something,' it's so unnecessary," he said.